With the MuliVariants – Bulk Order,  you can apply a minimum and a maximum number of variants restriction per product. 
Let's say you have 10 variants of a product and you want your customer to select the minimum variant of 5 otherwise, they won't be able to add it to the cart or checkout.

To apply the minimum variants limit per product follow the instructions below:
From the admin panel, click on "Set Restrictions"

Scroll down a little bit, You will see the restriction section named "Variant restrictions"

You can set a minimum limit and a maximum limit.

Enter your preferred number to limit variants.

Save it. That's all.

For the above-given scenario, set 5 as the minimum variants and leave the maximum limit as it is. After the setup is done, your customers will see an alert message on the product page specifying the minimum quantity in red text until the condition is fulfilled.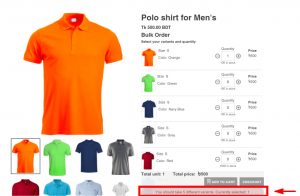 Still, if you face any further issues or need help, feel free to contact us. Our support team will be happy to help you.
You can always reach us via
Support ticket from MultiVariants app

Live Chat in MultiVariants app

Direct email to

support@multivariants.com
So, Good Luck! And happy selling with MultiVariants.