There are various businesses that provide preset bundles so that the customers choose the quantity within the offered bundle amount. If you need a preset bundle quantity selector for your Shopify store, instead of the normal quantity input box, then this is the feature for you.
For example, you can allow your customers to select product quantity from preset values like 10, 20, 50, 100, 500, 1000, etc. You can add your quantity ranges as you want. MultiVarints App will change the normal quantity input box into a quality selector drop-down on the product page. After adding to the cart, the app will change the cart page quantity input box in a drop-down as well.
To set the bundle quantity follow the procedure:
From your MultiVariants dashboard Click on  "Set restrictions".


Scroll down then you will see the option "Would You Like A Bunddle Quantity Option" 

From here click the button "Bundle".

Enter your quantity input and click on the

"+"

icon to enter the next value.

Set the Quantity in the quantity box as per your requirement.

Save the settings and see the change on the product page.
Once the feature is enabled, customers will see a drop-down menu with the preset bundle quantity when they go to enter the quantity on the product page. Also, the app will automatically check the available quantity in the store and disable the quantity values of the bundle set which are more than the available quantity.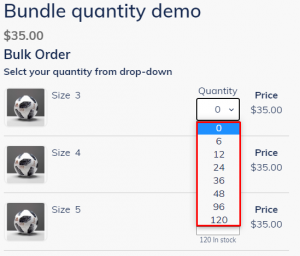 Custom Quantity Title
Let's explain it with an example. Assume you are selling cupcakes. These cupcakes come in a box of 12. So you want to sell them in 12,24, 36, 48, etc. But instead of showing 12, 24, 36,… you want to display them as 1 box, 2 boxes, 3 boxes, etc. This feature also allows you to set Fraction Quantities.
(To learn more about fraction quantity setup, click here.)
By using the MultiVariants "Bundle Custom Title" feature you can give your own custom title to your bundle and let your customer choose from your provided bundle.
To avail of this feature all, follow the steps:

From your MultiVariants Dashboard, Click on your product "Set restrictions".


Scroll down then you will see the option "Quantity Selection Type".

From here select the "Bundle" option.

Set the bundle quantity range box.

Tick on the "Add Bundle Title Box" and add your preferable bundle title in the title box.


Save the setting.
Still, if you face any further issues or need help, feel free to contact us. Our support team will be happy to help you.
You can always reach us via
Support ticket from MultiVariants app

Live Chat in MultiVariants app

Direct email to

support@multivariants.com
So, Good Luck! And happy selling with MultiVariants.