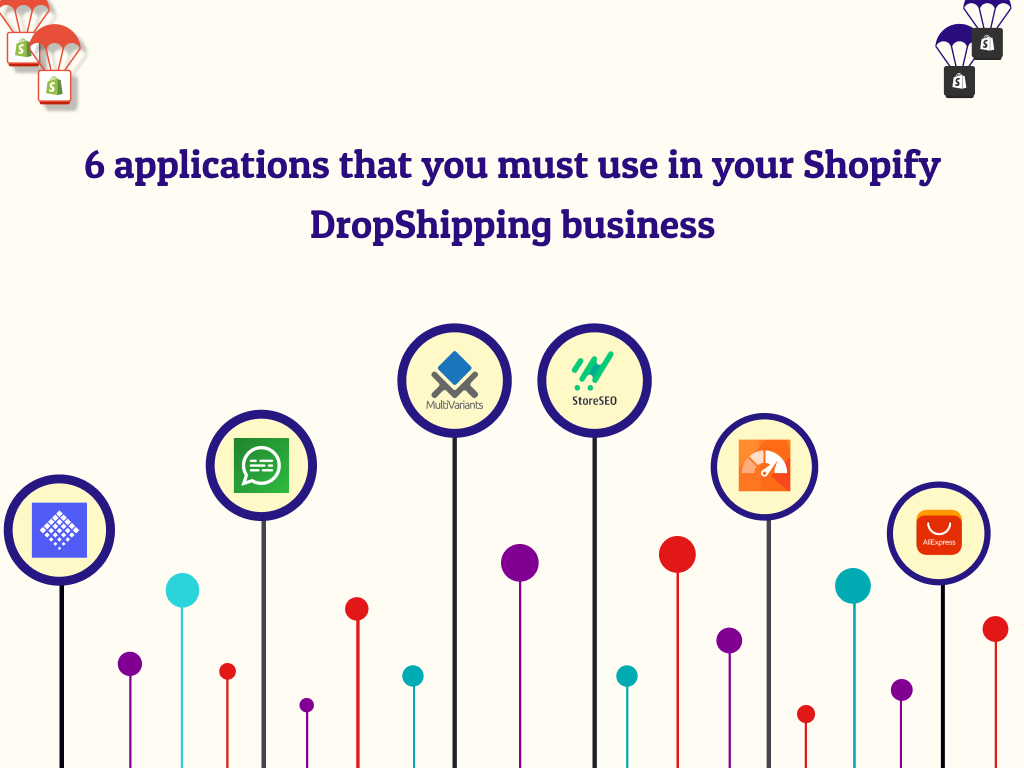 Nowadays, dropshipping is one of the fastest-growing eCommerce business models, especially on Shopify. In a dropshipping setup, the store owner only acts as a middleman between his customers and the manufacturer or supplier.
As a dropshipper has no actual product, sometimes it becomes challenging to grab customers' attention. In such cases, using different types of third-party applications, including knowing the features of a dropshipping business, can make it easier.
But the most important thing we want to suggest is that you know how to start a dropshipping business from the beginning.
Anyway, here we will suggest you some best apps for Shopify dropshipping business that you should use.
The 6 Best Apps for Shopify DropShipping Business
Application 1- MultiVariants – Bulk Order App
The MultiVariants-Bulk Order app for Shopify makes it easier for a wholesaler to order in bulk. With the MultiVariants – Quick Order app, a merchant can order multiple variants of a certain product from a single product page. Which isn't possible with default Shopify.
This app is useful not just for B2B wholesale businesses but also for B2C businesses and dropshipping businesses.
Using this app, a dropshipping merchant can make different product bundles, such as mix-and-match, incremental increase, pre-set value, min/max order quantity, and more.
A drop shipper can also easily limit the quantities of any item his supplier doesn't want to sell. This restriction can also be put on different kinds of the same product. Know about the best dropshipping suppliers here.
Moreover, as we know, drop shippers do not manufacture or stock any of the products. But still, by using the MultiVariants – Order Limit App, they might gain their customer's trust because MultiVariants has real-time features like "out of stock" or MOQ. When a dropshipping merchant uses these features in his store, his customer will automatically count him as a reliable businessman.
So, as you can see, MultiVariants – Bundle Builder Application for Shopify has some business-oriented features that solve the business challenges of eCommerce dropship business models, which will help them to generate more revenue with minimum effort. To know more about a dropshipping business, read this article.
Rating- 5
Price of App- Free to 19.99$/month
Features- 
One-click add to cart 

Automatic installation without coding

The quantity box displays all variants in the list

Min/Max quantity per variant

Free trial is available in MultiVariants 

This application support multi-Language

24/7 support system 
Application 2- StoreSEO
A dropshipping company's presence in Shopify search results can be improved with the help of StoreSEO. It's an effective search engine optimization marketing strategy for any kind of online store. With this SEO application, finding SEO issues can become faster and easier.
You can use this software to make meta titles and description templates, optimize your photos, as well as adding keywords and tags. StoreSEO also facilitates the uploading of sitemaps, integration with Google Search Console, and other SEO best practices. You may increase traffic to your dropshipping business by doing these things to improve your search engine rankings. See the app.
Rating– 5
Price of App– Free to $249.99/month
Features-
A Superior SEO audit tool that delivers in-depth research and report

It will put up a sitemap for your shop by linking it to Google's Search Console.

Will Improve Search Engine rankings

Will increase visits with regional SERP optimization and JSON-LD
Application 3- TinyIMG
TinyIMG is a Shopify SEO tool that improves the aesthetics of your store's design and speeds up page loading time. This is the way to go if you need to learn how to optimize your dropshipping site for search engines but want more organic traffic.
Your customers will have a fantastic viewing experience if the photos on your site are of high quality and the pages load quickly.
TinyIMG will automatically resize and compress your photos before sending them to your Shopify store, saving you time and effort. The software compresses images without reducing their quality to reduce page load times.
TinyIMG is free and can be used on any Shopify store. See the app.
Ratings– 5
Price of App- Free to $19.99/month
Features– 
Reducing file sizes and improving image quality

Search Engine Optimization Reports are generated

Improves loading times and SEO rankings by fixing underlying technical issues

Identifying dead links and rerouting traffic
Application 4- DSers‑AliExpress Dropshipping
With DSers, an official AliExpress eCommerce solution, customers can easily make bulk dropshipping orders and payments. Besides AliExpress, DSers have also easily linked with other leading eCommerce platforms, including Shopify, WiX, and WooCommerce.
DSers' main goal is to simplify and streamline the dropshipping process for their customers. The ability to manage various suppliers for a single product is a useful tool for any business or consumer. It's a breeze to check stock levels and customize deals for individual customers.
With DSers- AliExpress's Dropshipping Solution, a dropshipper can fulfill hundreds of orders in a short period and can increase revenues.
Furthermore, DSers can help drop shipper identify better suppliers, import products from a variety of sources, automate time-consuming activities, and much more. see the app.
Ratings- 5
Price of App– Free to $49.90/month
Features-
Automatic order tracking and package status updates

Allows to manage multiple Shopify stores in one account

It helps to find cheaper and better suppliers for selling the same products
Application 5- PageFly – Landing Page Builder
Regarding dropshipping, PageFly is one of the most helpful page design apps available. It provides numerous editable templates from which to choose. The software is free to download, but there are paid upgrades available.
This is the best app to utilize for those who are just starting their dropshipping business at Shopify. If you're new to Shopify and want to create a website, you can use the code-free PageFly.
You can quickly change the layout of a new store by dragging and dropping the editor and other parts. This will save you time when opening a new store.
It's free, easy to use, and quick to set up, so it's no surprise that many Shopify merchants consider it one of the most excellent apps. See the app.
Ratings- 4.9
Price of App– Free to install 
Features – 
You'll be given unrestricted access to our comprehensive resource of elements.

It's a sure way to make your site faster and more efficient

You can call the friendly, helpful customer support staff at any time
Application 6- SuperLemon
Use the SuperLemon WhatsApp app to quickly and easily start a conversation with your dropshipping consumers on WhatsApp. Use this application in a CTA button. Despite its age, it remains a top Shopify app for customer communication.
Excellent customer service is an essential component of any successful online store. Furthermore, the lack of real-time interaction between customers and your Shopify store will hurt conversion rates. So, use SuperLemon to make customer support simple. See the app.
Ratings- 4.0
Price of App- Free to $25/month
Features- 
This app's CRM allows you to send automated order confirmations, tracking, and cash-on-delivery alerts.

It allows putting a WhatsApp live chat button on your store's website to keep up with your customers' communications.

With its WhatsApp message templates, consumers can automatically get updates about shipping and delivery statuses along with other relevant details.
Bottom Line
To run a dropshipping business, a few applications are a must. There are bunches of applications available at Shopify, but which one do you need to choose? Drop the worry and select from the options not mentioned. Hopefully, these applications will solve your significant business difficulties. Read this article carefully to learn about the usage of appropriate app for Shopify dropshipping business.