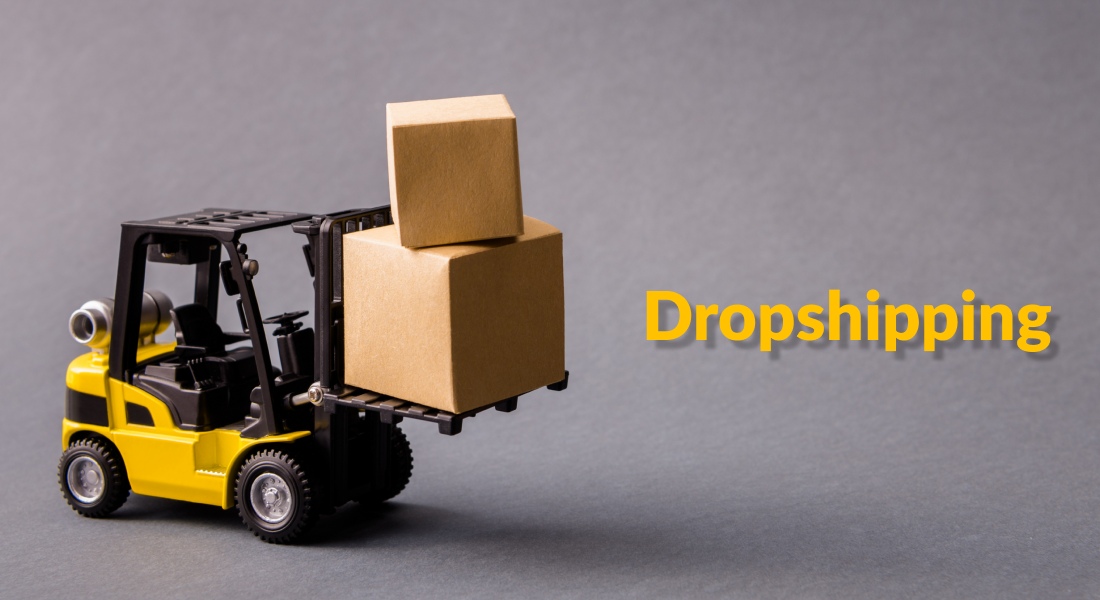 It's common for new business owners to be stressed about both money and time. Startups don't instantly produce a profit. As a result, the founders of those small businesses sometimes suffer a lot to keep balancing the business and their employees.
According to the Bureau of Labor Statistics, around 20% of new businesses fail in their first year, and over 50% of startups fail within the first five years.
To get rid of such problems, some businessmen get into the eCommerce dropshipping business, especially on Shopify.
Dropshipping as a business model is a fantastic option for new business owners. If they outsource production, storage, and distribution, this business may save you money in terms of advertising, inventory, and inventory management altogether.
But still, the concept of dropshipping requires explanation to a large number of businessmen. That's why we are here: to provide comprehensive guidelines about Shopify dropshipping.
Read this article if you're curious to know how dropshipping on Shopify First of all, let's know what dropshipping is.
What Is Dropshipping Business?
Dropshipping is a business model that allows online retailers to outsource production, inventory management, and customer service to other parties (often wholesalers).
There is essentially little chance of excess inventory because things are usually only charged to the business owner after a transaction.
If you've just stepped into Shopify, dropshipping can be a good alternative for you. This allows you to spend more time marketing rather than taking on the financial and logistical risks of owning and manufacturing them.
Moreover, it also allows startups and small businesses to test out products and product lines. To know about dropshipping features, read this.
How to start a dropshipping business on Shopify?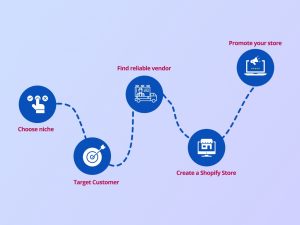 Step 1: Choose a Dropshipping Niche
First of all, you need to gather your thoughts about dropshipping and identify a less competitive market niche for your product. Because of this, you'll be able to stand out from the competition and find reliable providers.
A dropshipping niche is considered to be a group of products that target a specific demographic with shared interests. A niche's popularity or depth might vary with the requirements of your business.
Here are some tips for picking a market segment that can help you build a profitable internet business:
Find a niche

that you are passionate about

If you're enthusiastic about the things you're selling, then make your dropshipping business more convenient for your consumer

Make a move toward resolution in your business. Consumers are more likely to shop with a dropshipping company that can help them with a specific issue. For example,

using a third-party bulk order application in a Shopify

store can save your customers time

Identify the needs of your market segment and fill them with the appropriate goods. Make long-term plans

If you want to invest in a long-term product line, dropshipping will bring in consistent revenue. Use a free resource like "Google Trends" to see which consumers are interested in your business.
Step 2: Know Your Customer
Once you know which products you want to sell in your dropshipping business, you need to find out more about what your customers are interested in.
When you know who you're trying to reach, it's easier to make decisions about everything from product development to distribution.
Furthermore, with proper analysis, you can find out data about who will benefit most from your product. Later, you will be able to narrow down your target market according to the data.
Also, if you want to be a successful drop shipper, you should ask yourself questions like, "How can my products do better than my competitors'?" Who does my business serve? Where do they look for me?
Lastly, when you are done with these answers, it will be easier for you to know exactly who is your ideal customer.
Step 3: Track Down Reliable Vendors
After doing a good job of researching the market, the third step of dropshipping is to choose a reliable vendor. Your dropshipping business's success depends on how easily you find reliable suppliers.
Suppliers are not only responsible for making the products but are also responsible for distributing them to the customers. Doba, SaleHoo, and Wholesale2B are examples of the many wholesale distributors available online.
Though there are several options, there are some things to keep in mind while choosing a dropship supplier for Shopify.
Look for a dependable provider and go with them. Ask for a list of satisfied customers and verify the supplier's legal status before doing business with them. 
Check the quality of the supplier's service by reading evaluations written by people who have not had any involvement with the company.
Additionally, think about the affiliate fee while deciding on a vendor. Dropshippers often target profit margins of 15-20%. Call the vendor and see if you get prompt and helpful assistance from a representative.
Place an order and evaluate the goods. If you want to try out a supplier's product, they probably offer a free trial. Keep in mind that the supplier should make things that are in line with your brand's image.
Moreover, check the product's condition and the supplier's packaging and shipping practices to make sure they are consistent. Take note of the supplier's processing and shipping times.
Choose a vendor who has a solid return policy. Find out if the provider has any prepayment or minimum order requirements. This knowledge will help you set more accurate prices.
If you're using a popular eCommerce platform, then chances are your supplier already integrates with Shopify, eBay, or Amazon. Selecting vendors who support these platforms will streamline your drop shipping operation.
But do not forget to compare the quality and service of several vendors by ordering the same product. After analyzing all of them, pick one that most closely resembles your dropshipping company.
We recommend that you stick with one vendor for a long time to avoid inconsistencies. When you think your dropshipping company is stable then try different vendors according to your demand.
Step 4: Create a Shopify Web Store For Your Business
Hopefully, now that you are done with all your primary tasks, you can focus on setting up a store on Shopify.
Sign Into Your Shopify Account
To get started, go to Shopify and sign in. If you haven't already, you should take advantage of Shopify's 14-day free trial to launch a store and customize it according to your own preferences.
Register a Name For Your Website
Before opening for business, you should add a domain name. It's important to choose a unique business name and domain that reflects your business motto toward your target audience and set an individual dropshipping goal from the competition.
To select the name of a store, Keep it short and simple because short names fit more easily into the URL bars. Try something new, but do not try something uncommon because people will forget such names easily. Generate a powerful name for your business that helps to connect with your customers easily and ease your marketing efforts. And the last thing is: do not copy names from your competitors. 
Verify If Anything is Available
When you see that your preferred domain name is already taken, that creates a lot of frustration. To cut hassle, choose an appropriate name from the beginning so that you can save time.
It's possible that yourstorename.com has already been registered. In such a case, you may try a direct domain extension, such as apps.shopify.com/multivariants.
Add Products to Your Shopify Store
Now that your Shopify store is ready, you can start importing products with the help of dropshipping software.
Check out the available items in your app. Products and their descriptions can be imported directly into your Shopify account and edited there. In the case of delivery expenses, keep profit in mind.
Step 5: Promote Your Dropshipping Store
To make your dropshipping store well known, you'll need a solid plan for promoting your business.
The biggest benefit of dropshipping is that it allows you to focus on developing your client relationships and building your business image rather than managing inventory and delivery.
Products for dropshipping are typically available from a variety of online businesses, so the key to expansion is setting up your business in such a way that you can grab loyal customers and boost their purchase frequency.
Take Help From Social Media
To promote a small dropshipping business, social media marketing strategy is an excellent resource. Moreover, paid advertising campaigns on social media can also help.
According to SproutSocial, Compared to the previous year, the total number of active social media users increased by +137 million (+32%) in January 2023. That means using social media to promote a business is a good idea.
As we know, audiences can be broken up into smaller groups based on things like their interests, what they do online, and which accounts they follow.
Social media allows dropshippers to contact them altogether. On social media, you will know exactly who is interested in your product.
Besides social media promotion, there are a few other options that can help a dropshipping business become more visible:
According to Ahrefs.com, Search engines are the starting point for 68% of all online activities.
So, consider using an SEO plan to raise your dropshipping site's visibility in search results. The goal of search engine optimization (SEO) is to increase the number of visitors to your website by making changes to the site based on the information gathered from search engines.
In fact, search engines drive nearly one-third of all website traffic, making enhanced visibility especially essential for local businesses. The expense of search engine optimization marketing can be kept low because of different free SEO tools.
Do Not Forget About Email Marketing
Additionally, of all forms of digital advertising, email offers the best ROI. It helps those customers who sign up for your newsletter. Successful email marketing campaigns are aimed at keeping readers engaged and converting them into buyers.
Additionally, through email marketing, you can keep in constant contact with your customers. Keep sending them emails with helpful information about your products, and try to send a personalized email to them.
Advertise On Google and Reach Your Target Audience
Via Google AdWords, you can target your ads specifically to users of Google and YouTube. Google's main way to make money is through AdWords, which is a PPC advertising platform.
Pay-per-click advertising means that you only pay when someone clicks on your ad. In this way, the Google Ads platform is very similar to other ad platforms.
The versatility of Google Ads in reaching consumers across search, the Google Display Network, and YouTube. The main appeal of Google AdWords lies in its ability to target your audience based on specific behaviors, demographics, interests, and other attributes.
By utilizing the Google Display Network and a combination of the aforementioned characteristics, you may "retarget" customers who have recently visited specific items from your Shopify dropshipping store.
Users who have previously browsed your products will be reminded of them as they visit other sites that are part of Google's display advertising network. These things will later assist you in making emails.
Use Third-Party Quick Order Application In Your Shopify Store
You can use a bulk order application to make an endless engagement in your dropshipping. This application will be more beneficial if your business is focusing on B2B wholesaler of Shopify. There are various applications are available in the Shopify play store. Choose a versatile application to help your customer in every possible way.
In a dropshipping business, you do not have your own product, but adding extra perks in the store can make your business more reliable. If you do not have any idea how much a quick order can be helpful, then have a look-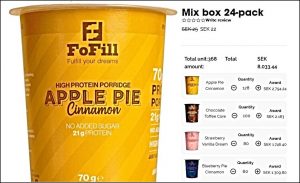 Here we can see that a Shopify store owner is using a quick order application in his store. This application allows buyers to order 368 products together from one product page. This approach is obviously a time-saving approach. Additionally, this application allows store owners to create bundles so that they can balance their inventory as well.
Bottom Line
Starting a dropshipping business in Shopify could be really easy with these given easy steps. If you are just a beginner at Shopify who is just planning to start a dropshipping business, check these steps ahead. The process of opening dropshipping business will be easier.