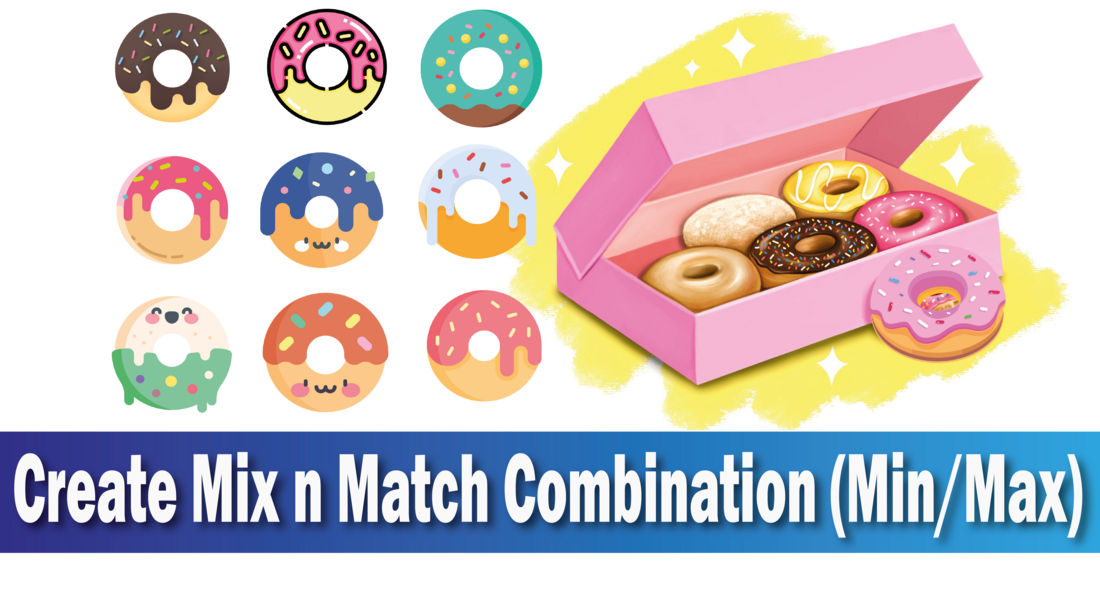 Mix and match bundle app for Shopify is a way of selling products in a combo. There are lots of businessmen in Shopify who are using numerous bundle features, and mix and match is one of them.
As a Shopify store owner, if you are searching for an application that provides a mix and matches feature, then, first of all, you need to know what type of combo product you actually want to sell and what your business is about. 
Because, including mix and match, there are different product selling processes available in Shopify. Mix and match have their own category under Sales and Conversion. Bundling products is not something that comes with Shopify by default. As a result, selecting an app is required.
In this article, we will put close attention to the mix-and-match bundle app for Shopify.
Shopify Mix and Match Bundle deal – Feature of a Variant App 
Mix and match can be a single app or a feature of an application. For instance, the bundle builder app has a mix-and-match bundle feature, on the other hand, Mimac is an app that is only a mix-and-match configurator. 
Mix and match bundle app for Shopify help store owner create a combination of several products as a package and sell them at a set price.  
Store owners usually set the price for each box of products, and the customer has to choose the same quality of products and make a box on their own. This product bundling method encourages customers to purchase more items at a time.
In other words, we can say that a mix-and-match bundle allows your customer to combine one product variant with another. Basically, with the feature of mixing and matching customers are able to order different variants of products together to save a certain amount of money as well.
Shopify's mix-and-match product bundles are essential to achieve the primary goals of both businessmen and customers, who are selling variants of products and customers who want to save money by buying bundle products in Shopify.
Top-tier Shopify stores' bundle applications such as Bundle builder, upsell bundled products, product list variants viewer, and a one-click add to cart application as MultiVariants have mix-and-match bundle features to help B2B wholesale businesses increase sales and profit.
Benefits of the Shopify Mix and Match Bundle App
Bundling is a great way to get the most out of your current inventory. As a business owner, it's important to understand how product bundling might benefit your company.
#1. Increase The Value Of Your Customers' Orders
Individual product revenue and sales can be increased over time by combining products into mix n match bundle. 
Increasing your average order value by bundling your products encourages clients to buy different variants of products at once. For instance, you can raise your average order value (AOV) by allowing customers to buy multiple products in one transaction rather than separately.
#2. Cost Savings In Advertising, Packaging, And Distribution
Bundling products increases sales and reduces marketing and distribution costs. Instead of promoting each individual product, you might promote a combination of them.
Combining relevant group product items into a single package saves warehousing space. Moreover, bundling reduces shipping expenses for separate items. Instead of developing print and web ads for each product, create a package that promotes all of your products. 
#3. Reducing Stock-Outs
If you don't sell your products on time, they become "dead stock" and add to your storage costs. Eventually, they will be thrown away as trash. Bundling makes it possible to stop a problem before it starts. 
To sell slow-selling or uncompetitive product, the bundle is a better deal and its convince customer to buy the product quickly. This will cut down on inventory waste, warehouse space, and the cost of keeping inventory.
How Do A Mix And Match Bundle Feature Work for Shopify?
The most common product bundling in Shopify is called "mix and match bundling". This bundling process works on such group items of products that can be sold both individually and combined. 
Working Process
A muffin cake box, a set of different lipstick variants, or any other multiple-variant product could be a great example of a mix-and-match variant. Because a store owner can sell these types of products one at a time (with different types and variants), the store owner can simply fix the variants of the product with the quantity, then customers will go to the store and choose items from that fixed quantity to create their own bundle. 
Moreover, a mix-and-match set helps a store owner to reduce shipping costs or to solve a packaging problem.
Here is an example of mix and match: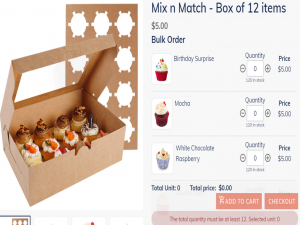 Here a customer is able to order any flavor of muffins from any variants but the quantity should be exactly 12. It can not be 13 or 11. This example is taken from a store where the merchant is using the quick order app for Shopify, and this has a mix-and-match bundle feature. 
What Kind Of Challenges Does Shopify Mix And Match App Solve?
Before going into an elaborate discussion, let's look at when a store owner needs to set mix and match.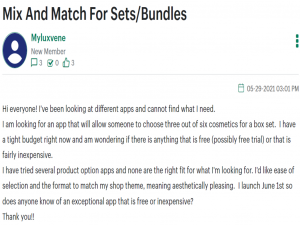 So here we can see this store owner wants to allow her customers to make individual product bundles independently and does not want to create any pre-set bundles for the customers. When someone wants a free trial opportunity, he may use the MultiVariants – bulk order application because this app has a mix n match feature and in their starter package they offer a free trial of 3 days.
If you are a store owner like her who sells variants of single products and wants to keep balance in your inventory, including making customers happy by allowing them to create their own bundles and allow them to pay one set price, then you may integrate the mix-and-match bundles feature into your store.
With the use of mix-and-match bundles, a store owner can solve these problems.
Packaging issues

Inventory management

Quick order process 

Faster clearance of identical product variants
So, suppose you are doing such type of business and want to try a third-party application with several bulk order solutions (pre-set value, incremental quantity, drop-down quantity sector)including mix and match features. In that case, you can install the bulk order application. 
Bottom Line
Mix and Match bundle app for Shopify works best for the product, which can be combined with other variants of products. And in this custom bundle, customers can customize their own product in a fixed quantity, which is both beneficial for the store owner and the customer.