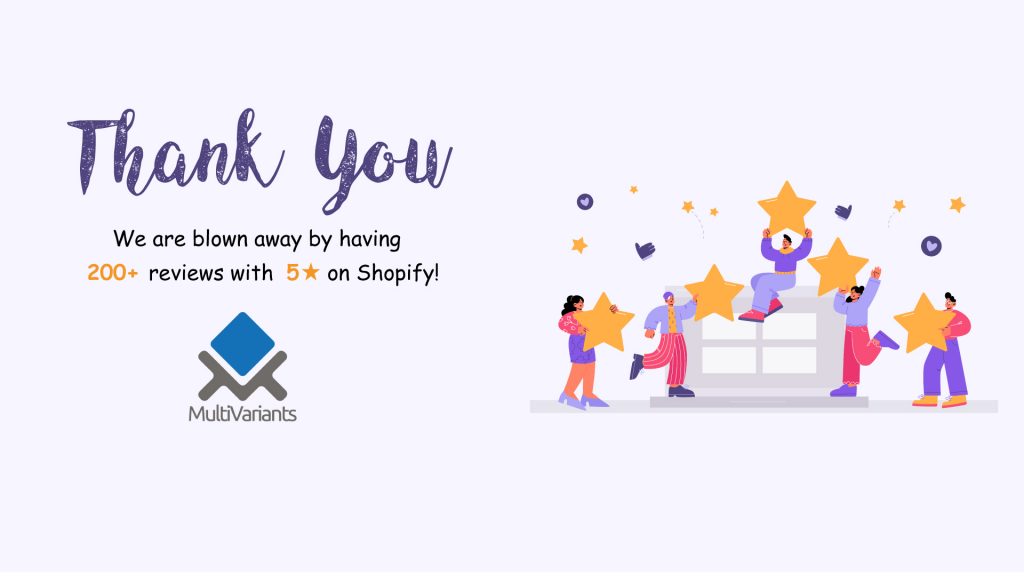 Customer trust is hard to gain, but MultiVariants – Bulk Order App did it. This revolutionary Shopify app lets customers effortlessly place bulk orders with minimum/maximum conditions set by merchants. MultiVarinats earned 200+ favourable reviews and a 5-star average rating in the Shopify app store.
MultiVariants is popular with Shopify shops looking to improve order management due to its simple UI and extensive bundle of features. Additionally, Multiple orders are placed quickly and easily with the app, which does not require any data entry process.
This app is not only a simple, time-saving automation that merchants love, but it also allows custom bulk orders from a single product page at a time with multiple variants, which is not supported by Shopify by default. 
The option to customize bulk ordering and workflow for B2B merchants is one of the perks of MuliVariants- Quick Order App. Because of the business-centric features and options, the MultiVariants Bundle Builder app makes it all of its kind.
Moreover, every merchant of MultiVariants becomes satisfied because of MultiVariants' outstanding customer service. The dedicated support team of MultiVariants maximizes the app's usage for businesses. MultiVariants is also unique since it offers support documents, YouTube videos, and social media posts for new users.
Look at the reflection of a happy customer-

What is the MultiVariants – Bulk Order app? And What does it Offer?
The unique bulk ordering app MultiVariants saves Shopify merchants time and effort in order and inventory management. MultiVariants always believe: Easy Order Process > Increase Sales!
This powerful Shopify app lets stores create multiple orders at once using a simple bulk ordering interface.
MultiVariants eliminates the need for Shopify's manual bulk ordering process. The app's extensive feature set automates bulk order placement for each merchant's needs without coding. 
Beyond speed and efficiency, MultiVariants gives business owners freedom and control over inventory. The app lets businesses customize bulk orders by making bundles (Mix and match, drop-down selector, bundle quantity), putting MOQ and applying different rules. Know how to boost Sales with bundle variants on Shopify Store
For example, you sell T-shirts in different sizes and colors. With MultiVariants, you can create a custom bulk order for 100 t-shirts in size L and color black. Most importantly, you can do this all from one product page without switching to a different page. The MultiVariants – Variants Builder App allows one-click add to cart.
If you are looking for a Shopify app that can help you save time and make your order management process simple, then MultiVariants is an excellent option. It offers many features, including custom bulk ordering, to help you take your business to the next level.
Let's have a look at how it works-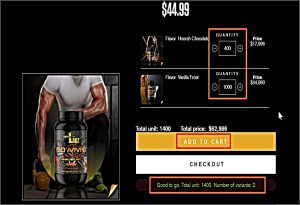 Here, you can see this merchant offers multiple variants of protein powder in one product page, and his customers can purchase 1400 products together. This means they can perform bulk order processes without any hassle.
Top Features of MultiVariants – Bulk Order App
MultiVariants – Bulk Order App has several business-centric features useful for both B2B and B2C business models. Read this to learn about your business models.
Automatic installation, without coding

Display all variants in a single product on page 

Allows to set min/max order quantity restrictions for variants, value and price 

Allows to set personalized text for variants

Show Variants option display in different styles (Grid/box, Swatch, List and Select layout)

Allows to add quantity rules, including increments and bundle quantity selectors (

Drop-down

)

Allows B2B businesses to set minimum and maximum quantity per variant grid or mix and match all variants 

Support Multilanguage 

Compatibile with various themes

Support

B2B catalogs price list

,

multi-currency

Show/hide "out of stock" badge

One-click add to cart

Free trial 
Why Merchants Love MultiVariants?
Bulk ordering automation saves hours of manual order creation. And MultiVariants do it perfectly. It dramatically speeds up ordering by allowing bulk purchases and modifications. 
MultiVariants simplifies bulk and variable product ordering for Shopify merchants. The app's flexibility, customization options, reliable performance, theme compatibility, and outstanding performance make it a business-centric app for all types of business.
Merchants easily set up a bulk ordering system with MultiVariants to meets their business needs with intuitive controls. 
Customers can easily add multiple variants and quantities (Size, color, type) from a single product page which directly leads them to the checkout page, enhancing conversion rates, AOV and CLV.
This app is easy to use

. To use MultiVariants – Quick Order App, a merchant

does not need any technical expertise

because it already contains a user-friendly interface and

codingless installation.

Additionally, Merchants can get

help from the expert technical support team 24/7

. The Customer service of MultiVariants always tries to provide customer-centric business solutions, leading the customer into a stress-free bulk ordering process.

MultiVariants'

pricing policy is affordable

for merchants of all sizes. And this app is fully compatible with Shopify features and seamless integration.

MultiVariants has proven essential for Shopify shops by tackling their most significant order management issues. MultiVariants helps them to run their Shopify stores more efficiently and successfully. The

MOQ feature of MultiVariants is great for inventory management.
For example, MOQ is an excellent feature if a B2B wholesaler wants to buy an extra product when he sells all of the ones he already has. After putting a limit on a product, his customers must meet the criteria for the limit to buy it. This helps the store owner keep a good cash flow and keep track of his stock.
So, to grab this opportunity for a quick bulk ordering process, just try this fast purchase app in your Shopify B2B wholesale store and push it into your business.
Bottom Line 
MultiVariants is an excellent tool for any business model that sells variants products in bulk. It makes the buying process easier for merchants to focus on growing their business instead of dealing with logistics.
MultiVariants still has a way to go before reaching its goal of a million reviews. MultiVariants' reliability will grow due to its unending customer support and a steady stream of new features.