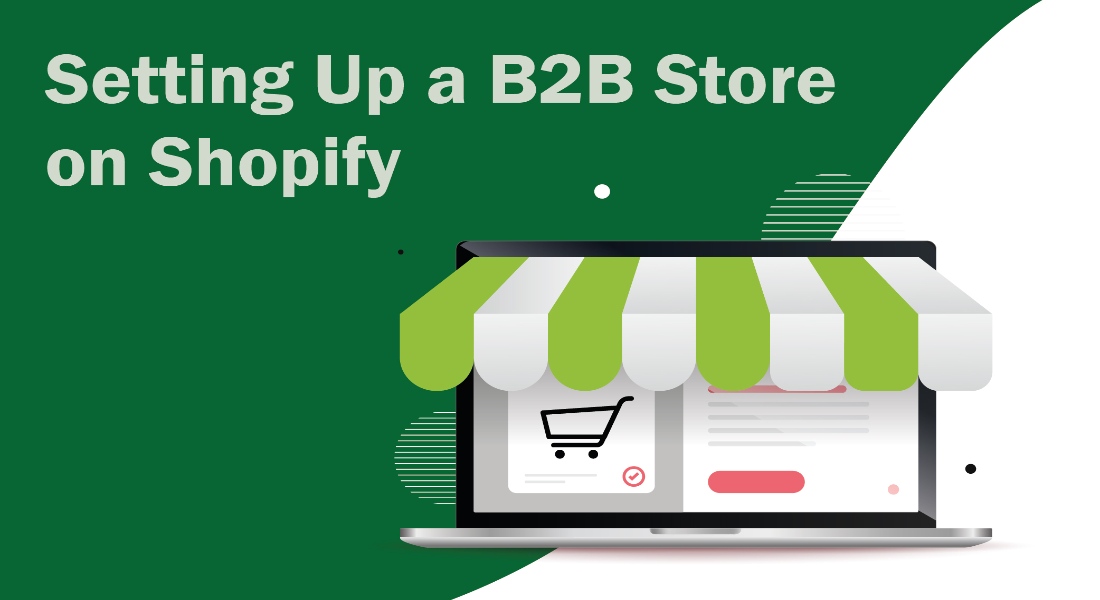 A business-to-business (B2B) eCommerce store differs from a typical retail online store. The features and functionality of B2B stores are different from B2C businesses in the case of pricing, shipping, custom payment options for various customers, monitoring orders and inventory management.
Running a Shopify B2B store successfully requires an awareness of the distinctions between B2C and B2B clients. Wholesale Businesses typically have longer purchase cycles, more complex requirements, and higher order sizes than regular customers.
To do wholesale business at Shopify, the first thing needed is to make a B2B store. In Shopify, a storeowner can make a B2B store in different ways.
Nowadays, Shopify become a popular eCommerce platform because it is easy to use and allows businesses to maintain an online business without any effort.
In this article, we will see all the aspects of B2B business at Shopify and learn how to set up a B2B store on Shopify.
Should B2B Merchants Prefer Shopify?
Shopify is an excellent choice for enterprise-level online stores. It has everything that a business needs to manage orders and clients efficiently. In addition, you may personalize the shop requirements of your corporate client with the help of various third-party apps.
To successfully manage a wholesale business, it is crucial to find a pricing structure that allows for tiered discounts, bulk orders, the creation of bundles, and the offer of suitable inventory management according to the business's needs.
Let's look at the cost of Shopify plans.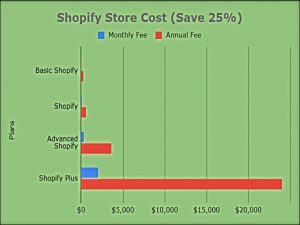 B2B eCommerce with Shopify: Common Misconceptions
According to Grand View Research, international B2B (business-to-business) online sales will reach $20.9 trillion by 2027, reflecting a CAGR of 17.5% from 2020 to 2027.
Some of the most common misperceptions concerning B2B eCommerce are as follows:
Setting Up a B2B Wholesale Business At Shopify is Difficult

B2B Companies Cannot Benefit From eCommerce

Bulk Orders are not Possible at Shopify

A B2B Website is Not Important

Bulk Purchasers Cannot Trust Shopify Wholesalers
Misconception 1- Setting Up a B2B Wholesale Business At Shopify is Difficult
Setting up a B2B store at Shopify can be strategic but not tricky. If you do not have any coding skills or do not want to buy a subscription to Shopify Plus, you can still build a successful B2B store at Shopify.
With the help of several apps and features, Shopify makes it simple for companies of any size to launch and manage an online B2B store.
Misconception 2- B2B Companies Cannot Benefit From eCommerce
With proper marketing techniques and strategies, A B2B business might be more successful than a traditional one. Moreover, in a business-to-business (B2B) eCommerce at Shopify, companies can use several tools and apps to make their business more efficient, which is impossible in an offline business.
According to McKinsey, B2B eCommerce business in North America will be worth more than $4,600 billion. They also found approximately the % of B2B revenue attributable to online sales is around 18%.
Misconception 3- Bulk Orders are not Possible at Shopify
It is not true that Shopify cannot handle large orders. Shopify supports bulk order processing within the Shopify Admin or using third-party tools. With the help of B2B eCommerce, businesses can offer their clients a high level of customization by utilizing apps for bulk ordering or product personalization.
According to a survey by Oracle in 2022, 77% of B2B consumers are likely to spend $50,000 or more through remote or online sales channels.
Misconception 4- A B2B Website is Not Important
A good number of people think building a user-friendly website for B2B sales can be expensive and time-consuming, but besides this, they must know a well-maintained website is always worth money.
A website is a page where traffic comes, chooses a product and makes an order. So showcasing a store properly with a practical CTA button is essential to drive traffic and prospects into a customer.
Furthermore, websites help companies expand into new industries by giving clients a simple and hassle-free option for purchasing.
Misconception 5- Bulk Purchasers Cannot Trust Shopify Wholesalers
Consumers usually build faith in an online shop because of its reliable brand value, company practices, relevant customer reviews, and flexible shipping policy.
In the case of bulk buying security measurement is also an important issue. Fundamental security measures of a B2B eCommerce platforms include data encryption, user authentication, and access control. Shopify B2B eCommerce help businesses to build stronger relationships with B2B customers through personalized and targeted marketing and outstanding customer management.
How does B2B eCommerce Work at Shopify?
Shopify's B2B eCommerce platform provides user-friendly manufacturing, inventory, and shipping access to both store owners and customers. This boosts the supply chain effectiveness of a particular B2B store. 
Nowadays, many eCommerce businesses focus on wholesale companies to expand their operations without taking any excessive financial risk or needing to make a sizable initial investment. For example- if you are doing a dropshipping business, you can still shine in Shopify by using a bulk order app without any product because you are unaware that in a dropshipping business, you do not have any actual product in stock. 
Ways of Setting Up a B2B Store on Shopify
Shopify offers several options for setting up a business-to-business online store. The most appropriate approach for you depends on your requirements and financial constraints. Some of the most widely used techniques include-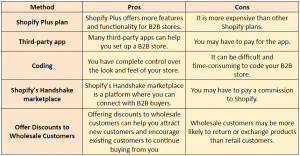 Choosing one or two approaches may be better depending on your situation and financial constraints. 
Coding is an effective alternative if you are familiar with the language and want complete creative control over the design of your shop. Besides, a third-party app is helpful if you need more time or want to learn code.
Moreover, upgrading to Shopify Plus is recommended if you want your business-to-business store's most outstanding features and functionality.
Furthermore, Shopify's Handshake marketplace is an excellent choice if you are trying to reach B2B customers; Lastly, creating a B2B store on Shopify is as easy as creating a new customer group for wholesale customers and setting up discounts.
Way 1- Setting Up A B2B Store on Shopify With Shopify Plus
Shopify Plus, in general, is a costly choice for creating wholesale Shopify stores. It allows B2B wholesalers to set custom prices, choose convenient payment options, and customize each customer's shopping experience. Shopify Plus provides everything that a B2B wholesale store needs. 
In addition, Shopify Plus has different plans like Basic Shopify, Shopify, and Advanced Shopify.
How to set it up?
Step 1- Create a Company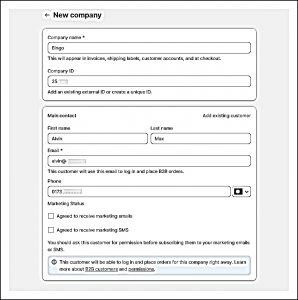 Shopify's B2B features simplify business connections. Multiple sites have various features. This includes separate catalogs, payment terms, shopping cart options, and shipping regions. To create a company in Shopify Plus-
Go first to

Shopify's Admin > Customers > Companies

. Choose a new company. Next,

insert your company's name.

A user's name will appear here after they have successfully logged in. Insert a corporate ID here. You can use an existing external ID or create a brand-new one.

Select an existing profile or enter new information about a client.

An email address is required as the primary contact method in every client profile.

The next step is to fill out your shipping and billing information.

Put in an area id, an existing external ID, or one you made. 

The next step is to enter the catalog information for the ones you have decided to link to the business.

Check the Orders and Payments

area to see if clients need to submit draught orders.
Company payment conditions, such as immediate payment at checkout or a net time for later payment, can be established in the following section.
Fill out the Taxes section with the company's tax ID and any exemptions it may have, as well as the Metafields section.
Once you have double-checked your Shopify B2B account settings, you can hit "Save" to finalize the setup of your new enterprise.
This system can remove data, but only under specific conditions. If deletion is initiated, a corporation's web pages will be released with the company itself.
Customers connected to the business will also be severed, although they will remain in your database unless you delete them.
If there are outstanding orders for a company, they cannot be removed from the system. The same regulations are in effect when a company's domains are seized.
Step 2- Create a catalog
With a B2B catalog, you can customize the shopping experience for each client.
A B2B catalog can be linked to a storefront to offer wholesale pricing to businesses. Setting an overall adjustment allows you to raise or lower all your products' pricing by the same proportion. In addition, it is possible to set fixed prices and volume pricing for individual items or variants with Shopify Plus. Some versatile B2B wholesale apps for Shopify also support catalog pricing lists, where you can create a company with discount product pricing.
In the Catalogs section o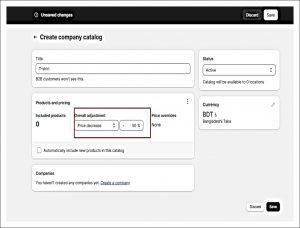 f your Shopify admin, you can make as many catalogs as you like, with a limit of 25 for each single storefront.
Choose

"Create catalog"

and add only the items you are interested in, or add everything. The next step is to define other options, such as currency or adding new products, and automatically give the list a title (which customers will not see).

In "Products and pricing," you can add and remove particular items and adjust their costs.
After these processes, the catalog will become "Active" and assigned to the B2B store. Within the Catalogs tab, you may set catalogs to businesses by editing existing companies or creating brand-new ones.
Let's look an image how catalog pricing works before vs after use-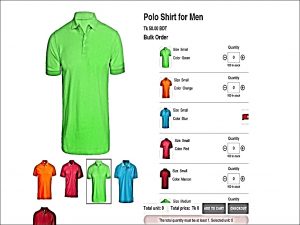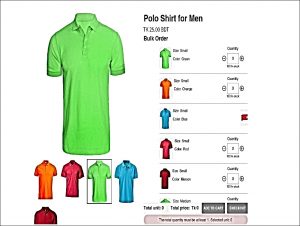 Here is the overview of how it looks before and after applying the catalog pricing list. It is clear that before use, the price of the polo shirt was 50 BDT, but for a particular company, a selected group of customers will buy the same polo shirt at a 50% discount.
Remember that B2B pricing will reflect the lowest configured price if a corporation assigns numerous catalogs to the exact location. CSV files can also change catalogs, such as adding or removing products and modifying prices.
The customer service they receive from your business will improve due to the streamlined management of your B2B services, made possible by this adaptability.
Shopify's CSV import/export features are beneficial for keeping track of B2B products and services. The exported catalogs can be downloaded individually or in bulk as CSV files. Products with discounted percentages are not included in the exported catalogs.

When making changes to product variants, you can skip the columns labeled

"choices" and "values" instead of the SKU column

. Go to the Catalogs area of your Shopify admin, then click the catalog you want to export, followed by

"Manage" and "Export CSV."

Selecting which goods meet export standards is possible. The exact process applies for exporting many catalogs simultaneously; simply select the catalogs you wish to export, as described above. The system supports imports of single items or entire catalogs.
After your data has been imported, you may verify its accuracy with a preview before confirming the import and updating your B2B catalogs.
Step 3- Launch your B2B store
Shopify's Plus subscription is where you will find its Business-to-Business (B2B) features, allowing you to split your store's customers into B2B and DTC categories. This includes both traditional and brand-new client profiles.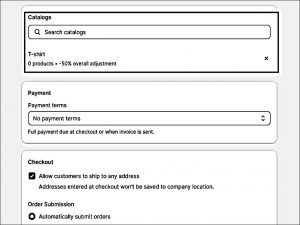 Establishing new client accounts by email and delivering a 6-digit verification number is essential for B2B transactions. Customers in the B2B sector can use such accounts to place orders, browse the appropriate catalogs, and research their company and its geographical location.
On the other hand, DTC customers can use either an existing or a brand-new account while checking the status of their purchases. The level of service provided depends on whether the email is associated with a business profile or a direct-to-consumer one.
Several options exist for easing the onboarding process for new B2B accounts. Some examples are enabling B2B access in the settings for new customers, adding B2B access URLs manually to your store's navigation, and emailing B2B customers directly.
As a result, the ordering procedure for B2B clients is simplified by using pre-filled information, customized pricing, and streamlined checkout screens. Customers can review their orders and make any necessary adjustments to their accounts before the payment deadline after checkout.
Way 2- Setting Up A B2B Store on Shopify With Third-Party Apps
Since most B2B clients want to avoid the time-consuming effort of adding bulk products with a back-and-forth procedure, setting up a Shopify B2B or wholesale store is a simple solution with the help of a third-party app.
As in Shopify, a customer can not perform a quick order process by default, so you can grab this opportunity to make your customer loyal to your business.
How does it work?
A Shopify bulk order app significantly impacts B2C and B2B wholesale businesses. These apps let users add different variants of products from one product page with just one click. Store owners can apply restrictions, set MOQs, and create custom bundles with this app.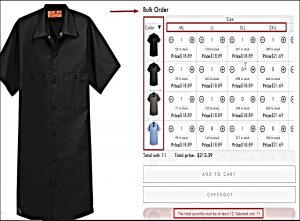 Here, this bulk order app for Shopify allows customers to purchase at least 12, enabling them to buy various variants of shirts (color, size) together. Additionally, this app shows showing "in-stock" badge with the product and price box.
These apps are versatile because some work as bulk order apps, bundle builders, and variant builder apps. These apps allow online shoppers to buy products in bundle quantities with different variants. For example, mix and match, dropdown quantity selector, pre-set value, etc.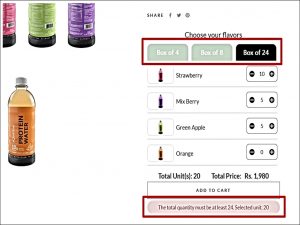 Additionally, here we can see one of the store owners selling juices in different bundles, and his customers can easily buy 4, 8 and 24 packs of liquid according to their needs.
For businessmen seeking an alternative to Shopify Plus, then using a business-centric application is feasible. Let's see an example of a bulk order app for Shopify-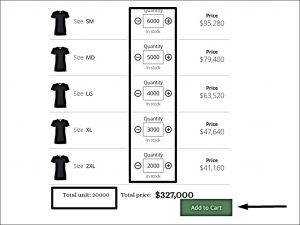 This an interface of a bulk order app for Shopify, which works as a helping hand for B2B wholesale business. Here we can see a customer is ordering 20,000 polo shirts simultaneously. This meets the motto of a bulk order process perfectly.
Furthermore, this app allows one to add a massive amount of orders together and one to one-click add to cart, ultimately cutting the necessity of a back-and-forth process.
Way 3- Setting Up A B2B Store on Shopify With Coding
No one but a professional Shopify developer should be trusted to improve the appearance and functionality of your wholesale Shopify store with coding. However, hiring a Shopify developer lets you make unique user registration and login processes for retail and wholesale clients.
You may attract regular consumers and wholesalers by running different discounted campaigns, which the professionals at Shopify can help you with. The customer's location can modify tax and other Shopify settings.
Improving your Shopify B2B and overall store for clients is simple by working with a Shopify developer to tailor your store to your company's specific requirements.
Way 4- Setting Up A B2B Store on Shopify With Shopify's Handshake Marketplace
Shopify's 2016 introduction of the B2B (business-to-business) e-commerce platform Handshake. Its goal is to facilitate more efficient business dealings between wholesale vendors and customers.
With the Handshake platform, online wholesale firms may set up a unique shopfront through which they can market their wares, handle consumer orders, and maintain open lines of communication. Because of the wholesaler's online shop, customers may shop without picking up the phone, sending an email, or thumbing through a catalog.
A handpicked selection of Shopify products is available to wholesale suppliers through Handshake Wholesale.
Similarly, this platform facilitates the discovery of wholesale suppliers and the procurement of wholesale goods for customers.
Unfortunately, only wholesalers and suppliers in the United States can use the Shopify platform, making Handshake the best forum for efficiently bridging the gap between wholesale and retailers. Also, Shopify stated that the Handshake transaction fulfillment feature would be available to users soon.
Handshake by Shopify is an excellent alternative for wholesale stores when simplifying the sales process, bettering client connections, and increasing profits. Due to its adaptability, real-time order tracking, and compatibility with Shopify, it is an excellent tool for managing wholesale operations.
The following are some of the many advantages of using Handshake on Shopify for wholesale retailers:
Advantage 1- Sales Procedures Have Been Simplified
Handshake simplifies wholesale purchases by providing a specialized storefront for each buyer. This new feature saves you time, replacing the lengthy alternatives of calling, emailing, or browsing through hardcopy catalogs. Both the buyer and the seller will save time as a result.
Advantage 2- Shopify Integration
Because of Handshake's seamless integration with Shopify, wholesalers can track wholesale and retail sales in one place. By connecting the two systems, managing stock, sales, and customer information for both is less hassle.
Advantage 3- Reasonable Prices
Shopify sellers can get Handshake as a standalone app. The cost depends on how many people will use it and their options. This allows wholesalers of varying sizes to save money by purchasing the modules they use.
Advantage 4- Customized Stores
Handshake is a platform for online wholesale sites to set up a unique shop window. Their logos, pictures, and other identifying marks can be integrated into the shop's decor. Products can be sorted into categories, and discounts and individualized pricing can be provided for various customers.
Advantages 5- Usage of The Mobile App
The Handshake mobile app helps wholesale websites run their operations from anywhere. They can check orders, talk to clients, and monitor sales anywhere they have internet access.
Advantages 6- Analyses And Reports
With the help of Handshake's reporting and analytics tools, e-commerce wholesalers can monitor their sales, spot patterns, and make educated decisions. Customers, products, and orders can all be viewed separately, and information can be exported for further research.
Handshake by Shopify is a business-to-business e-commerce solution that works with Shopify. With this connectivity, online wholesale sites may control their wholesale and retail transactions from a single control panel, saving time and decreasing the likelihood of mistakes.
Most customers want to know, "When did Shopify own Handshake?" However, Shopify did not acquire Handshake. Shopify's Handshake is a business-to-business (B2B) eCommerce platform made with the needs of wholesalers in mind.
Online wholesale sites now have a complete solution for handling wholesale and retail sales because of the launch of Handshake in 2016 and its subsequent integration with the Shopify platform.
Integrating Handshake with Shopify is simple and only requires a few key steps. The first step in the integration process is downloading the Handshake app from the Shopify App Store. 
Access to the app in this manner requires either an existing Handshake account or the creation of a new one. Synchronization of data is crucial to the success of the Shopify and Handshake integration.
Integrating information about products, customers, and stock levels is essential. To initiate this synchronization, pick "Sync Data" from the Handshake app's main menu to bring up the option for selectively importing desired data. 
Once the handshake setup is complete, you can develop a unique shop. Logos, pictures, and descriptions can all be customized to help spread the word about your business and its offerings. 
The next step is determining the price, including wholesale and retail clients. It is easy to create several price lists for different types of customers, complete with unique discounts and MOQs. Shipping, payment methods, taxes, and handling fees are all defined in a manner fully integrated with Shopify's associated functions.
Way 5- Setting Up A B2B Store on Shopify by Offering Discount Wholesale Customer
Managing large orders in Shopify is simplified by the ability to form a wholesale client group. Shopify's admin panel's Customers section is where you need to go to create this section. Creating a customer group might help you offer discounts without a Shopify Plus subscription.
Basic steps of opening a B2B store at Shopify
Select a Shopify Pricing Tier

Pick a Host and a Domain Name

Choose a Theme for Your Site

Upload Products to Your Shopify Store

Implement Payment Option in Your Shopify Store

Set Customized Shipping Rate

Set Up Promotional Codes on Your Shopify Store

Install Shopify Apps

Integrate Shopify With Google Analytics

Launch your Store
Step 1- Select a Shopify Pricing Tier
Selecting the best Shopify plan for your company's needs is the first step in setting up a B2B eCommerce website.
Shopify's service tiers start with the bare bones and go up to the pros. Shopify also provides a free trial period of 14 days.
We advise newcomers to the world of online commerce to begin with Shopify's entry-level Basic plan. 
Unlimited goods, 2 employee logins, creating orders by hand, coupons, abandoned cart retrieval, label printing, and fraud analysis are just some of the features included in this package. 
Additionally, You are always open to upgrading your Shopify subscription if you receive more orders and make more money.
Step 2- Choose a Host and a Domain Name
After deciding on a Shopify plan, the next step is to choose a domain name and hosting service. You can think of your domain name according to your company profile. it is always vital to pick something relevant that corresponds to your brand or service. Shopify offers dependable hosting services to its customers. Choose something convenient from there.
Step 3- Choose a Theme for Your Site
Selecting a design motif for your website is the next step. There is an excellent variety of both free and paid Shopify themes to choose from. If you need help deciding on a design for your Shopify store, look at some of the most downloaded themes.
You may see how a piece will look on your site before committing to it after you find one you like.
Step 4- Upload Products to Your Shopify Store
It is time to start stocking your Shopify store with merchandise. You may do this either manually or by uploading a CSV file. As a beginner, you may understand how the Shopify platform functions by adding your products individually.
You may also construct collections out of various products or divide your store into sub-sections (say, for the t-shirts you offer and the jeans you sell) to showcase your wares better.
Step 5- Implement Payment Option in Your Shopify Store
Adding a payment method to your Shopify store is the next step. The number of accepted payment types on Shopify, both online and in-store, is impressive. Credit cards, Stripe, PayPal, Razorpay, and Apple Pay, are some of the most widely used alternatives. Customers can purchase on your website with discount codes, in-store credits, and loyalty points.
Your B2B store can benefit from a client loyalty program by installing a third-party gift card and loyalty app. Simply type "gift cards" into the search bar of the Shopify app store.
Step 6- Set a Customized Shipping Rate
Setting up shipping charges for your Shopify store is the next step. Select the appropriate shipping company and shipment method for your products. Shopify has a shipping calculator that you can use to determine the most cost-effective shipping method for your products.
Orders can be shipped out immediately after they are placed with the help of automated fulfillment, which can be set up once shipping methods have been defined.
Step 7- Set Up Promotional Codes on Your Shopify Store
Promo codes are another effective tool for increasing sales and spreading brand awareness.
Customers can save money by using discount codes for free shipping or a free bonus item. Shopify's admin is where you can generate promo codes, or you may utilize one of the many third-party apps accessible in the Shopify App Store.
Step 8- Install Shopify Apps
To proceed, visit the Shopify App Store and download the necessary apps. There are many apps to choose from, so it is worth your time to look around and see which ones work for your company.
Among the most downloaded apps are those that link to social media platforms, accountancy programs, Shopify, and email marketing platforms. After you have set up your preferred applications, you can begin using them to streamline your operations.
Step 9- Integrate Shopify With Google Analytics
The next thing to do is link your Shopify store to Google Analytics. eCommerce shops can benefit greatly from Google Analytics because of the information it provides about their customers.
Google Analytics provides data on website traffic and conversion rates, which may be used to optimize advertising campaigns, reorganize content, and enhance the user experience.
Step 10- Launch your Store 
Suppose you are ready to open your Shopify store to the public! You may begin selling online after you have done all we have listed above. Ensure everything works as it should before launching your store to the public. After that, you may begin advertising your shop and attracting customers.
How to Run a successful B2B store at Shopify?
Shopify B2B businesses have the potential to offer more products to a more specific clientele than traditional B2C shops. The following are a few of the benefits.
Promote sales and wholesale costs

by displaying, unlike a regular B2C site, a Shopify B2B store makes it simple to manage wholesale pricing and discounts.

Order management activities

unique to B2B stores, such as specialized invoicing, payment terms, and shipping timetables, should be streamlined.

These tasks can be simplified with the help of apps and automated using a Shopify B2B store. B2B stores are more likely to be profitable since their average order value is higher than B2C stores.
Better marketing efficiency

increases the ability to customize ads to specific groups of businesses based on their demographic characteristics. Service to consumers is enhanced through account management and bulk discount pricing options.
Optimize Shopify for B2B with a Powerful All-in-One Tool: Our Suggestion!
What is your Shopify store's motto for using a bulk order app? It can vary from person to person. Not every businessperson's needs and requirements will match each other. As a result, many B2B wholesalers seek a suitable solution for running a B2B store smoothly.
Besides, using Shopify Plus, a versatile bulk order app for Shopify, is a reliable solution. What does a versatile quick-order solution contain? Using user-friendly apps helps merchants get more satisfied customers and increase their CR (Conversion Rate) and AOV (Average Order Value).
A B2B user-friendly app allows-
Automatic installation without coding

Shows multiple product variants on one product page

Support: click add to cart

Allows creating different bundles like mix and match, incremental quantity, bundle quantity, fix bundle quantity, etc.

Offers to add MOQ

Allows customized variants to be displayed by adding custom CSS

Support Multilanguage
Why this bulk order app for Shopify is wholesale business-centric:
Distinguishing Characteristics: This app provides cutting-edge features that are versatile and capable of fulfilling the B2B business motto. This bulk order app offers interval quantity, custom bundle creation, and mix and match, adding extra value to a wholesale business.
With this app, wholesalers may get everything they need to fill large purchases in one place, which lets them focus on building their business. Lastly, the flexible web interface of this app works smoothly with all devices and operating systems. This app supports a B2B catalog price list and native multi-currency.
Seamless Integration –The app Integrates with any available themes on the Shopify platform.
Server less technology – The app uses server less technology. That means all kinds of data are processed on the client side.
Others – The app has detailed documentation, a dedicated video channel, and a dedicated QA team.
Bottom Line
Effectively developing a Shopify B2B store requires careful planning and management. Grow your Shopify B2B business with the appropriate approach, right strategy, design, pricing, product pages, checkout process, applications, and customer support.
Explore the best Shopify B2B apps in the Shopify app store for more support in setting up a successful Shopify B2B store. The right apps can help you run your store more efficiently and open up new growth opportunities.