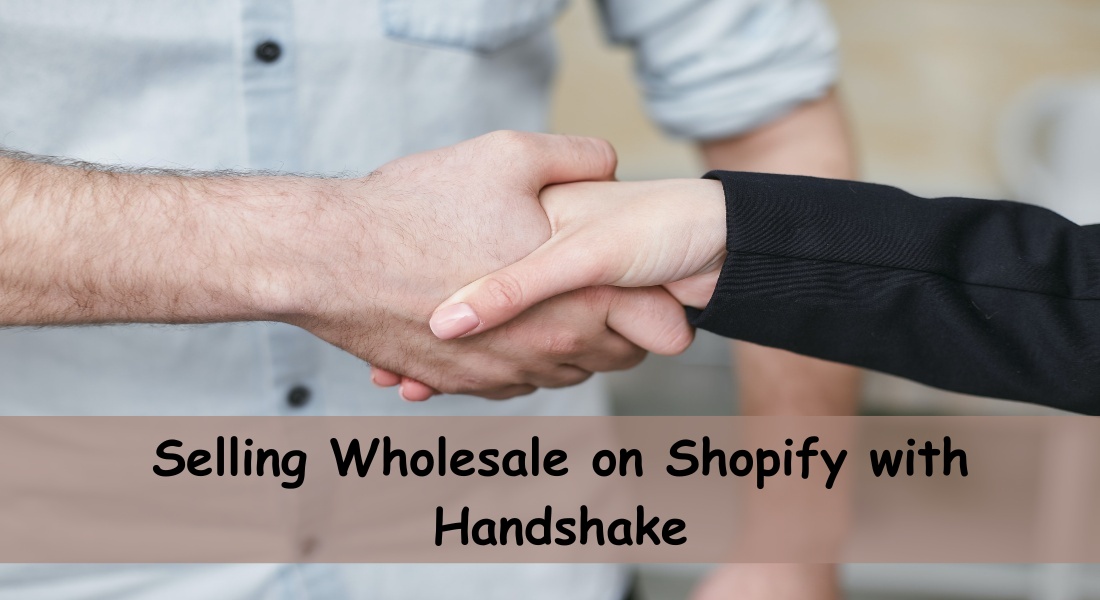 The online wholesale market can be a challenging setting for newcomers. The situation's complexity can take time to determine the optimal course of action.
In such a problem, Shopify's wholesale Handshake platform can streamline operations. The development and integration processes for wholesale eCommerce websites are simplified with Handshake. To provide the most effective e-commerce solutions, Handshake and Shopify complement each other very well.
In this article, we will talk about selling wholesale on Shopify with Handshake. We will also cover the best practices of a handshake.
An Overview of Shopify Handshake?
As a B2B wholesale marketplace, Shopify Handshake links direct-to-consumer (DTC) manufacturers with authorized merchants. It is also known as a brand.
Shopify Handshake makes it simple to locate and communicate with prospective wholesale partners, browse their profiles and contact details, and place purchases without leaving the app.
With Shopify Handshake, you can easily manage orders, stock, and payments to run your wholesale business better. Small manufacturers wishing to reach customers outside their eCommerce retail channels can benefit significantly from the platform's current adoption rate of over 65,000 shops.
Two Shopify workers, Kendall Denosky and Sarah Kauss, developed and released it in October 2021. Shopify merchants in the United States are the only ones who can use it, but there are plans to roll it out abroad.
Shopify Handshake's "fee-free" guarantee is one of its best features. That means you retain 100% of the money from any sales you generate through the site.
Everything You Need to Know About Shopify Handshake
Using the Handshake platform, wholesale websites can set up a personalized shopfront to display their wares, process orders, and keep in touch with clients.
Buyers no longer need to call, email, or request paper catalogs because they can do whatever they need to do on the wholesaler's website. Handshake's many helpful features for streamlining business transactions include:
Fact 1- Custom Pricing 
Online wholesale marketplaces can easily implement product price tiers according to varying client types, order sizes, and other factors. Using this function, they can provide individual discounts to customers and encourage them to make larger purchases.
Fact 2- Allows Quick Order
Customers can use the Quick Order function to quickly add several items to their shopping carts by entering their SKU numbers or the names of the products they wish to purchase.
This feature is preferable to manual order entry since it saves time and minimizes human mistakes.
Fact 3- Tracking Order
From when an order is placed until it is delivered, the customer and the seller can monitor its progress in real-time. This function ensures that orders are processed correctly and promptly.
Fact 4- Suitable selling process
Wholesale websites enable users to configure order processing routines, such as manual approval for large orders or automated shipping. This feature aids in streamlining their processes and cutting down on mistakes.
Fact 5- Compatibility with Shopify
Handshake's seamless compatibility with Shopify means wholesale and retail operations can be managed simultaneously.
Handshake is a paid add-on for Shopify stores, with rates that vary depending on the number of users and the options chosen. Many companies have benefited from the platform's ability to streamline their B2B sales thanks to its positive reception from online wholesale sites.
What are the Benefits of Selling Wholesale on Shopify with Handshake?
To facilitate the connection between wholesale-selling Shopify merchants and retailers, Shopify created a platform called Shopify Handshake.
Handshake helps companies expand their customer base and boost revenue by showcasing them to more merchants. Sellers that offer their products on Handshake should expect to attract the attention of retailers searching for unique, high-quality products.
As a regulated marketplace, Handshake only features the highest quality products from reputable companies. As a result, companies can introduce their goods to experienced retailers.
Moreover, companies can connect with merchants directly through Handshake. Companies may connect with merchants and better understand their requirements. This can improve sales and bring about more success for the wholesaler.
Furthermore, the listing of products on Handshake is free of charge. So, companies can wish to increase their wholesale sales without spending much money, this is an excellent choice.
Since Handshake is compatible with Shopify, wholesale operations may be managed in the same system as the rest of a company's operations. For instance, orders, stock levels, and prices may be monitored without hassle.
Steps of joining Shopify Handshake
There are only a few basic steps required to integrate Handshake with Shopify. Here is a comprehensive guide to linking your Handshake and Shopify accounts:
Step 1- Set up the Handshake app
Installing the Handshake app from the Shopify App Store is the first step in integrating Handshake with Shopify. After downloading the app, you must sign in with your existing Handshake account or establish a new one.
Step 2-
Synchronize

Shopify and Handshake data

Afterward, connect Shopify to Handshake and sync your data. This phase includes information on products, buyers, and stock levels. Select "Sync Data" from the Handshake app's main menu to utilize this. Then, pick and choose the information that you want to share. Your Shopify store's information will be imported into Handshake mechanically.
Step 3- Create a Unique Storefront
Once your information is synchronized, you may tailor your Handshake storefront to reflect your company's aesthetic and the goods and services it sells. You can make a unique shop window for your products by using your company's logo, photos, and descriptions.
Step 4- Set Pricing
Wholesale and retail price structures can then be established. Price lists, discounts, and minimum order requirements can be made for various consumer segments.
Step 5- Set up Shipment and Payment Methods 
In Shopify, you may configure your preferred shipping and payment methods, and Handshake will integrate with them. Prices do not include any taxes or shipping fees.
Step 6- Manage Orders
If you link your Handshake and Shopify accounts, you can manage all of your orders in one convenient area. It is also possible to keep track of shipments and communicate with customers.
Step 7 – Make the Best Use of Handshake Features
Handshake's wholesale company management capabilities include swift orders, automated procedures, and real-time order progress information. Customers will value the convenience and the time you save by implementing these changes.
The Shopify and Handshake integration is simple. You do not have to do any complicated coding or programming to have both platforms work simultaneously.
The best aspect is that this process may be completed anywhere, whether at home or in the workplace. Get all the benefits that the Handshake Shopify integration process has to offer.
Handshake currently does not allow using any third-party application. But there are a few ways, such as- the store owner must either utilize a third-party app that integrates with Handshake or use the Handshake API to build a custom app.
How can a third-party app of Shopify integrate with Handshake?
The Handshake Application Programming Interface (API) allows programmers to access Handshake resources.
This means that you can have your products imported from Handshake into your Shopify store through a custom app built by a developer. Handshake allows you to keep your Shopify store and inventory in sync. You may integrate Handshake orders into your Shopify store. For instance, if you want to use a bulk order app in your Shopify handshake, that application must be compatible with the Handshake API.
See a comparison table between using handshake and third-party applications.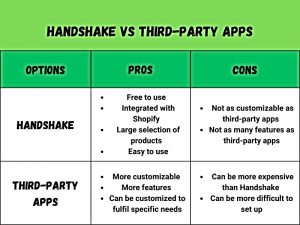 Bottom Line
If you run a wholesale business online and want to take your eCommerce to the next level, selling wholesale on Shopify with Handshake is wise step. Read this to know more about doing wholesale at Shopify.
You can maximize the benefits of this platform and can make a tremendous business expansion by following the mentioned advice regarding the process.