A Perfect Holiday Gift Makes A Memorable Holiday Experience
Finding a suitable holiday gift is crucial to make your dear ones happier. In today's tech world, people prefer online shopping rather than visiting shops physically. So, finding a legitimate online store that offers perfect gift items for the holiday season is another challenging task. Additionally, if consumers get the opportunity to create their own custom gift bundle, it makes them happier.
TheMe Trees is an online store that offers the perfect gift for the holiday season. Besides offering perfect holiday gifts, TheMe Trees online store is well organized so that customers can create their own custom gift bundle of their desired items and place orders smoothly from the store.
TheMe Trees – A Perfect Gift Maker For the Holiday Season
TheMe trees is a family-owned business selling Christmas holiday gifts. They offer customers DIY Christmas tree kits and build their own gift bundles. Customers can create their own Christmas tree kits from available 99 different gift items. Some of their gift items include –
Tennis Racquets and Ball

Soccer Ball

Football

Football Helmet & Foam Finger

Croquet set

Baseball Glove

Scooter

Skateboard

And many more
Their business model required a lot of customization for making it convenient for customers to place orders easily. Finally, they did it, and let us see how. 
TheMe Trees Business Policies And Challenges With Default Shopify Product Page
TheMe Trees offers holiday gifts through its Shopify store. They want to implement some business rules (required to increase their AOV – Average Order Value) from their Shopify store that can not be done with the default Shopify functionality. Let us see what business rules they want to apply –
To display 99 different gift items in a single Shopify product page and allow one-click bulk orders.

To offer customers the to create their own all-in-one custom kit where customers can choose a maximum of 10 gift items from available 99 different gift items.

To let Customers choose a maximum of 2 per item.

To limit the maximum order quantity of 11 (1 kit and 10 gift items).

To automatically check the inventory and displays the in-stock and out-of-stock badges.
So, all these business rules are crucial for TheMe Trees and it became challenging for them to apply all these rules when they launched their Shopify stores. Now, let us see how they overcame all these challenges –
How TheMe Trees Displays 99 Different Gift Items In A Single Shopify Product Page
The first challenge TheMe Trees faced was to display 99 different gift items on a single product page. Customers are to choose 10 out of these 99 items and place the order. To solve this problem, TheMe Trees found a product variants app for Shopify and seamlessly integrated its store with the app.
Now, all 99 different product items are displayed on a single Shopify page. This saves their customers valuable time during placing orders, eventually helping TheMe Trees increase their CRO.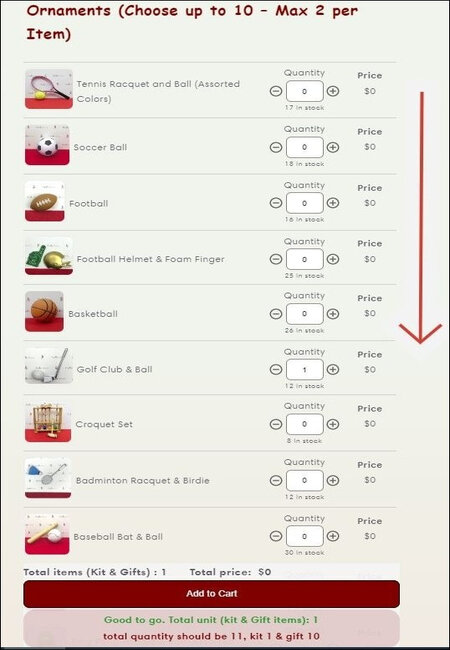 How TheMe Trees Offers Customers To Create Their Own Custom Gift Bundle
TheMe Trees wants to let its customers create their own all-in-one custom kit. A customer has to choose 10 items from available options and create a customized bundle of gifts. But with the default Shopify store, they could not do it. 
After integrating its store with a Shopify bundle builder, TheMe Trees can now let its customers create their own custom gift bundles. A customer starts with the Kit Basics (included) and adds 10 unique ornaments (gift items) of his choice from available 99 different options on the product page. And then the customer can add-to-cart this bulk order in just one click.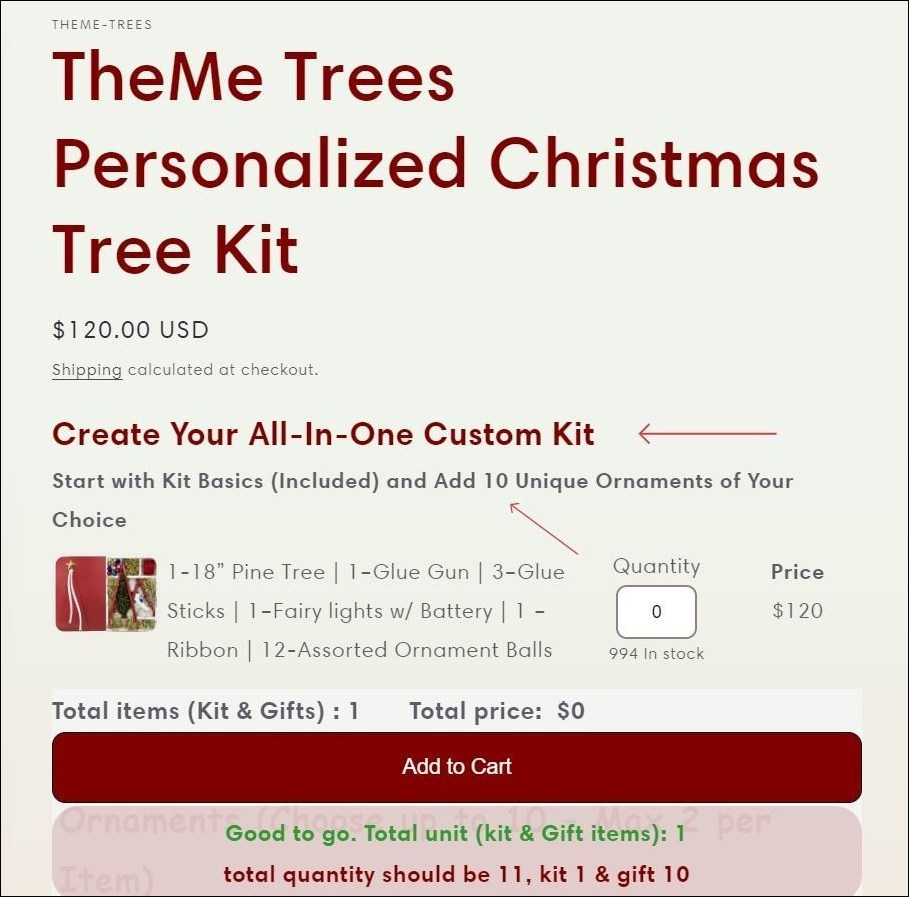 How TheMe Trees Applies Maximum Order Quantity (MOQ) Restrictions For Each Gift Item
Besides displaying all 99 different gift items on a single product page, TheMe Trees want to apply a maximum order quantity limit of 2 per item. Customers can not place orders taking any items more than 2. A Shopify order limit app helped them apply this restriction from the product page.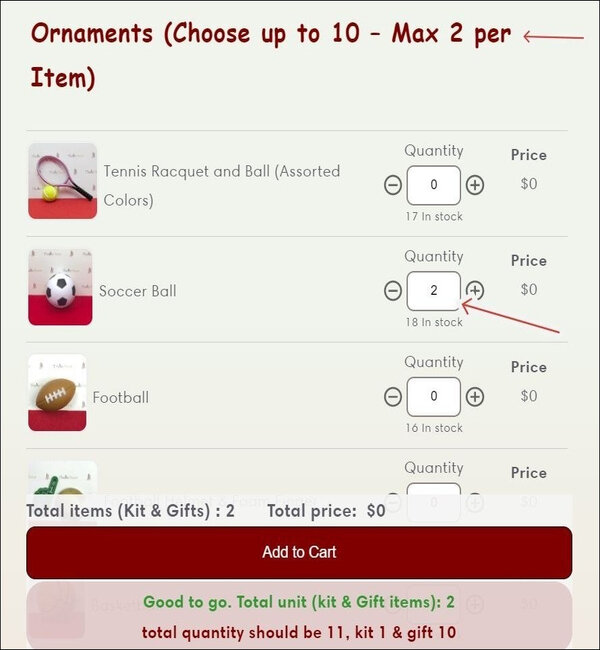 How TheMe Trees Applies Shopify Order Limit From The Product Page
Applying a maximum order limit of 2 per product was not the only requirement, TheMe Trees also wanted to apply a maximum order limit of 11 on the total quantity. But how did they do it on Shopify?
Well, it is the same Shopify order limit app that let them apply this maximum order limit. With the app, it's easy to set min/max order limit on the product page. It only requires a few clicks from the admin panel of the app. No coding knowledge is required.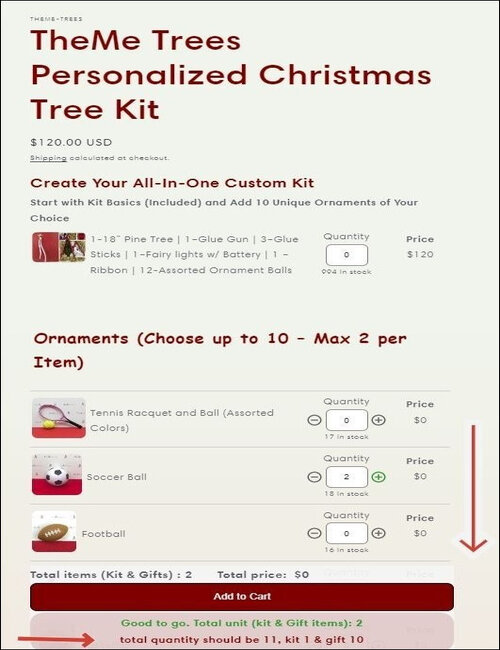 How TheMe Trees Auto-checks Its Inventory & Displays The In-stock, Out-of-stock Badges
Can you imagine how the situation would be if the customer places an order but the product is out of stock?
Definitely, TheMe Trees does not expect its customers to face this kind of situation. TheMe Trees wanted a solution that automatically checks its inventory and displays the in-stock and out-of-stock badges for all the items shown on the product page.
And TheMe Tress got the solution.
After integrating its store with a Shopify app, TheMe Trees inventory is now automatically checked and the in-stock and out-of-stock badges are displayed very easily under each variable gift item on the Product page.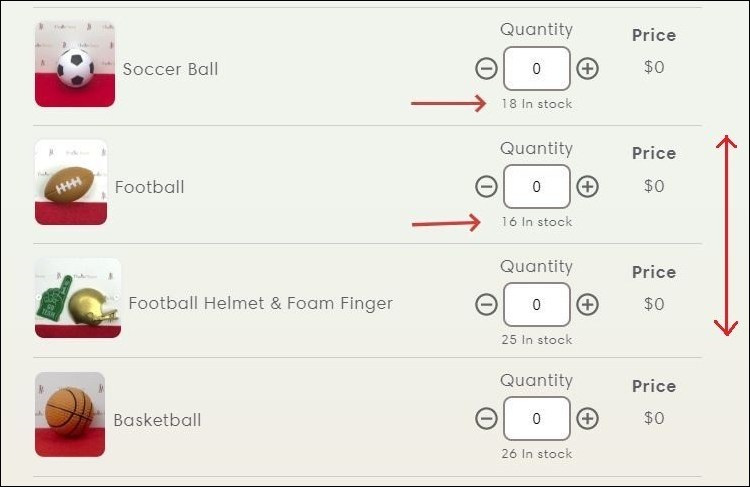 TheMe Trees has found its solutions and has been going well with its Shopify store. Here are a few happy words from them –
I cannot say enough good things about the MultiVariants App. First and foremost, their customer service is beyond AMAZING!!! TheMe Trees came across the MultiVariants App while searching for a simplified selling solution to our complex business model. Not only did "Touhid" from the MultiVariants team listen to our needs (they do live video chats), but he went over and above the call of duty. He was genuinely interested in understanding our issue and coming up with a workable solution. On top of thst, he helped us navigate the Shopify Store, as well as the MultiVariants App; so that we may set up our shop with the logic we need to address our rather unique business model. We could have never done it without MultiVariant's help. We migrated from another popular marketplace site that was too restrictive in its technical capabilities. Our business is seasonal and we are under a heavy time crunch to get to market as soon as possible. Without the MultiVariants app and team guidance, we could have never accomplished this feat. We are eternally grateful to MultiVariants and highly recommend them to anyone who requires a simplified approach to complex business models on Shopify. They are true professionals… THANK YOU!!!

TheMe Trees review from Shopify
Final Words
By default, displaying multiple product variations on a single product page in Shopify is not possible. Also, applying some essential business rules like min/max order quantity (MOQ) limit, allowing customers to create their own custom gift bundle and others are not possible in Shopify with default functionality. This is where comes MultiVariants – an order limit app for Shopify to let merchants apply all these necessary features and get more loyal customers.