Fast And Firm Competition Tires – A Prerequisite Of An Exciting Race To Excellence
Selecting suitable competition tires is challenging. There are a few things to consider to get the most out of them. The basic purpose of racing tires is to provide flexible steering, faster acceleration, and an improved braking system. Once all these are ensured, a driver can get his edge in any racing competition.
Hankook Racing tires might be a great option as they have been successfully leading the tire industry with a reputation for years. By supplying the best budget tires and sponsoring promising teams around the world, Hankook tires have facilitated many racing teams to deliver feverish moments to the fans.
Hankook Tire & Technology – Paving The Way For The Global Tire Industry
Hankook Tire & Technology originated in South Korea in 1941 and is the seventh-largest tire company in the world. Other than South Korea, Hankook has manufacturing facilities in the United States, the People's Republic Of China, Indonesia, and Hungary. The company entered motorsports in North America and they have official dealers and distributors in North America.
Hankook has successfully grown into a global leader in the tire industry through its astonishing innovations.
Challenges Faced By Hankook While Using Shopify as The eCommerce Platform
Hankook supplies a variety of racing tires through its Shopify Plus store. Once they started selling multiple tire variants from their Shopify Plus store, they faced a few challenges. With the default Shopify Plus functionality, Hankook was not able to fulfill all its purposes. Here are the challenges –
#1. Challenges With Displaying Tire With Different Size Variants On The Product Page
Hankook supplies different types of racing tires of different sizes. Some of the products are – 
Hankook Slick Tires

Hankook Wet Tires

Hankook Z214 Tires

Hankook RS4 Tires and so on.
Hankook faced the challenge of displaying different racing tires along with all its size variants on the product page. For instance – The Hankook slick tire has multiple size variants. If a customer wants to buy slick tires with multiple size variants, he has to do it one by one.
With the default Shopify functionality, Hankook could display the tire variant combination one at a time. It was a lengthy process for customers to place quick orders for multiple tire variants. So, it requires creating an easy and quick order form to save customers valuable time and ensure a better user experience.
#2. Challenges With Display Out Of Stock Item Badge
Shopify's default functionality does not allow store owners to use any custom badges for out-of-stock items. If Hankook wants to apply their own custom out-of-stock badges from their Shopify Plus store, they need to edit the code of the Shopify Plus theme which requires coding knowledge. Or, they can simply use a third-party application to apply any custom out-of-stock badges.
#3. Improving Customers' User Experience(UX) For Placing Quick Order Of Different Sized Tire Variants
On Shopify Plus, customers are allowed to purchase product variants one by one. It became challenging for Hankook to offer their customers an easy quick order form to improve user experience.
How Hankook Overcame The Challenges
Hankook was looking for an app for their Shopify Plus store capable of resolving all its challenges and building a quick order form on the product page. 
Hankook found a Shopify quick order app that saves customers time while placing orders of multiple variants combinations at the same time from the product page. 
Hankook integrated a quick order app with their Shopify Plus store that magically overcame all of their challenges. Let us see how –
#1. How To Display Multiple Sized Tire Variants On Product Page In Shopify
By installing MultiVariants – quick order app for Shopify Plus, Hankook can now easily display all available size variants of a racing tire on the product page. For instance -Hankook Ventus Z214 Tire has 9 size variants that require to be displayed on the same page. 
This single-page display of the 9 variants allows customers to select and add them to the cart quickly and easily which eventually is helping Hankook to get a number of satisfied customers.
So, Shopify Merchants selling multiple variations of products often face the challenges of displaying all the variations of a product on the product page. By using MultiVariants, any Shopify merchant can overcome the challenge of displaying multiple variations of a product on the product page in just moments and offer customers an easy Shopify Quick Order form system.
Here is how the Hankook Shopify store displays all the 9 size variations of the Ventus Z214 tire on the product page –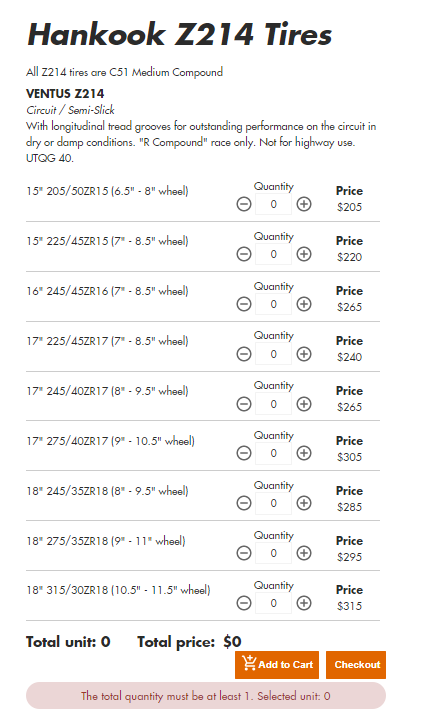 #2. How To Use Custom Out of Stock Badges
Hankook is allowed to use any custom text badges which is not offered by the Shopify Plus default theme. The MultiVariants app allows store owners to apply any custom text badges like out-of-stock, in-stock, New Launch, Limited Edition, etc.

In fact, any Shopify plus store owner can easily integrate with the app and without any coding knowledge apply any custom out-of-stock badges they wish to.
#3. How To Save Customers Time Allowing Them To Quick Order In One Click
With the app, Hankook has successfully turned its time-consuming ordering process into a simple one-click ordering process. This saves customers valuable time and is definitely helping Hankook get happy customers.
Before choosing MultiVariants, Hankook's customers' had to choose one by one and add them to the cart while placing orders for multiple size variations of a tire. Now, MultiVariants is saving their customers' time by offering a one-click quick order form for their Shopify store.
For any merchants selling in bulk, the MultiVariants – quick order app might be a necessary tool to build an easy ordering system. Get the tool and grow your sales volume by offering a one-click quick order form.
Positive Impact On Hankook Business With MultiVariants – Quick Order App
With producing the best budget competition tires Hankook is also concerned about how to simplify the order placing process for customers. With that view, they are offering an easy and Shopify Plus quick order process through their eCommerce store which has truly helped to earn a positive feedback from customers.
Out of the box it did what we needed to do but it needed some design tweaking. Their customer service staff got back to me right away and handled the items for me. Great job.

– Hankook Review from Shopify Plus app Store
Final Thoughts
Competiton tires are to facilitate a driver during any racing competition with their traction performance, flexible handling, improved braking, and better acceleration. No doubt Hankook tire and technology do not compromise in any of these. That is probably why Hankook is paving the way for the global tire industry.