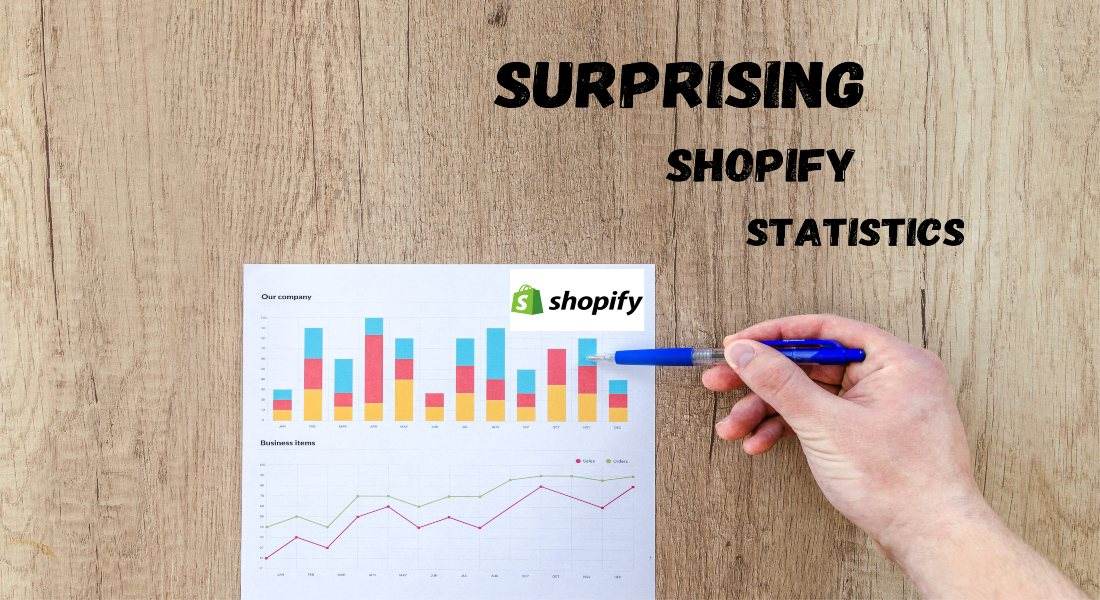 Shopify is an eCommerce platform that helps new business owners get off to a good start without the high costs of running a standard storefront. Since it was started by two Canadians in 2004 as a two-person business, Shopify has grown into a multibillion-dollar company with thousands of employees worldwide.
The Shopify platform gives store owners access to internal and external resources to help them run and expand their businesses. The Shopify POS system, email marketing tools, facilities for selling overseas, means for calculating taxes and shipping, and so on comprise the Shopify ecosystem.
You can sell your products on Facebook, Instagram, eBay, Amazon, and even TikTok with Shopify. But are you concerned about knowing some exciting statistics about Shopify? In this article, we will share some surprising Shopify statistics.
Surprising Shopify Statistics- Top 11
Statistics 1- Only 87% of Shops Rely on Shopify's App Store
As a store owner. First, you should look at how many people use the Shopify app store. According to The Social Shepherd statistics, approximately 87% of retailers use the store. In reality, only around 10% of stores use the app store.
The question then becomes, why could this be happening? Firstly, only some stores have started selling. Additionally, specialized themes like Shoptimized and Booster can be considered. These themes effectively replace the app store with its many integrated app capabilities.
You can use any flexible app or contact the developers directly. Though, there are alternatives to Shopify's markets for website construction.
Statistics 2- The Number of Available Shopify Apps is More than 6000 
It is challenging to guess how many apps are now available in the Shopify app store. Every month, the app store adds and deletes several applications. According to Shopify, there are 6,000+ apps in the store.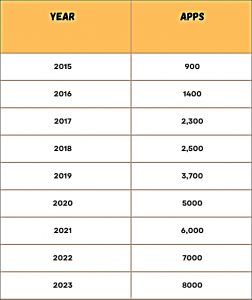 Each application focuses on making global business operations smoother and more productive. While consumers benefit from so many options, app developers may need help promoting their products by developing applications.
Statistic 3- More than $100 Million has been Spent in the Shopify app store by Merchants.
Since the first Shopify App Store went live in 2009, thousands of Shopify Partners have found financial success by selling apps to the Shopify merchant community. More than 12 million applications have been downloaded since 2011, and 87% of retailers now report using some form of mobile app to facilitate daily operations. Shopify merchants have invested over $100,000,000 in the Shopify App Store.
The United States, Canada, and Mexico accounted for 73% of Shopify's global sales, totaling $2.15 billion. Shopify Payments, an exclusive merchant solution, is available from the industry leader in eCommerce software. Shopify's payment processing fees are the primary source of revenue for its merchant solutions division.
Statistics 4- Over 80% of Shopify Users Utilize third-party Applications
According to Shopify, over 80% of merchants using Shopify have done so to take advantage of third-party software that helps them manage their business. The more shops there are selling online, the more specialized and unique the requirements of each store must be in terms of when, what, and how they sell.
Even if Shopify meets the fundamental requirements of online store owners, new difficulties and possibilities arise for merchants regularly. When app developers create solutions for the problems faced by online retailers, they can make a significant impact on the e-commerce industry.
Statistics 5- Almost 62% of third-party Integrations can Decrease a Website's Performance
Loox claims several third-party integrations in the Shopify app store may slow down your website. Their research indicates that it might add up to 0.75 seconds to load speeds if integrated with social media or email marketing tools.
According to Shopify and you, businesspeople use six to eight apps in their stores. A website's revenue can drop by about 5% if it has this kind of decrease in traffic; as a result, a company can lose 30% of its annual revenue.
Many apps save and display information on their servers to customers when interacting with the Shopify platform. Images, videos, and pop-ups are all examples of this type of content. This could cause performance issues on a website. This can be avoided if shopkeepers are careful about which app they choose.
Statistics 6- The Most Downloaded app from Shopify's app Store is Product Reviews
Reviews show social proof from happy customers, significantly impacting whether or not a buyer decides to buy something from your Shopify store. 88% of people say they trust online reviews as much as a suggestion from a friend. Word-of-mouth is extremely powerful in the case of an eCommerce store.
Research shows that 72% of buyers say positive reviews and testimonials significantly increase their trust in a firm. Adding the thoughts of happy customers to your marketing plan is a guaranteed way to increase sales and the number of people who buy from your business.
Statistics 7- By default, Shopify receives 20% of all income generated from apps sold through the Shopify App Store
When an app developer signs up for the Shopify App Store's revenue share plan, Shopify takes a cut of only the first USD 1,000,000 in yearly total app revenue. If your app earns over USD 1,000,000 a year, your revenue share drops to 15% from 20%.
Statistics 8- 43% of Shopify's total revenue in 2020 came from subscriptions, 52% from merchant-based solutions, and 5% from Shopify Plus
Shopify's sales in 2020 were $2.93 billion, up 86% from 2019. The company has lured more merchants to its platform, leading to higher sales volumes.
Subscription-based businesses have flourished recently as customers become habituated to this payment method. Business owners utilize different Shopify services which are subscription based. As a result, Shopify gained revenue from other subscription-based plans.
On the other hand, Shopify Plus is an upgraded version that provides businesses with several features and perks that are unavailable with the basic Shopify plan. This package includes higher transaction limits, a devoted support team, and easy reporting options.
Shopify receives a sizable percentage of its revenue from subscription-based solutions from the increased monthly price for Shopify Plus. This is another source of gaining revenue for Shopify.
Statistic 9- Each week, 90 new mobile applications are released at the Shopify app store
Shopify typically releases 40–90 new mobile apps per week. By 2024, the market for mobile commerce is predicted to grow to $620.97 billion. This translates to 42.9% of all e-commerce transactions on a mobile device. Therefore, it is crucial to consider the mobile purchasing process on your website to guarantee an excellent client experience and decrease shopping cart abandonment.
Statistics 10- The Typical App Rating of Shopify is 2.96
According to Spurit, the median app rating is 4.2, while the mean rating is 2.96. As a result, the mean review score is lowered by the few one- and two-star reviews. Also, free apps don't get higher ratings than paid ones.
Free apps have a median rating of 2.7 and an average of 2.3. As a result, paid apps have a better reputation than their free counterparts in the Shopify app store. Therefore, 96 studies have shown that most businesses are okay with average apps, while only a few merchants look for higher ones.
There are only 105,000 reviews for free apps, which is significantly lower than the number of reviews for paid apps. Since there are twice as many premium apps, you should expect to see twice as many reviews.
The average rating for apps in the shopping category is 3.38, making it the highest-rated class overall. Those who fall under the reporting umbrella often have a rating of 0.
Statistics 11- Shopify Users have Installed more than 25 Million Apps from the Shopify App Store
More than 80% of Shopify's merchants utilize third-party apps, and the company published these numbers in June 2019.
More than 12 million applications have been installed on Shopify stores since 2011, and 87% of merchants claim they use apps to manage their operations, as reported in September 2018. In a May 2018 announcement, over $260,000 per year is earned by the top 25% of app creators, and $100 million has been paid out to app developers so far, with more than half of it paid out in 2017.
There are over 2,400 apps. 23 million people use the App Store monthly, and shops typically use six apps.
A B2B SaaS Shopify App for Bulk Order 
If you're a busy entrepreneur running a Shopify store, research B2B eCommerce apps to improve your business to ignore the process of time-consuming bulk orders.
Then, we can recommend a bulk order app for Shopify that can quickly add B2B eCommerce features to your store to help simplify the ordering process. Considering the app's star rating in the app store, its number of positive reviews, its most notable features, and other qualitative details, you will be pleased with what you find.
This is not only a bulk order app, but also it has features for making bundles, adding restrictions (MOQ), and one-click add to cart (with multiple variants). So, consider this app as an order limit and bundle variant app.
Let's have a look at the interface of the app so that you can get a good overview of the usage of the app.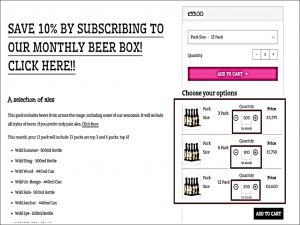 The merchant allows customers to buy 800 products at once in this image. Additionally, the app shows pricing besides the quantity box, a confusion mitigation step for a B2B business at Shopify. To push your eCommerce using such type of versatile app has no alternative.
Bottom Line 
The Shopify Apps Store is a practical resource for companies of all sizes seeking to expand their customer base and boost sales. The data presented here demonstrate the great potential of Shopify's Apps Store. Shopify apps are great; you should look into them if you still need to do so. How much they can aid your company may surprise you.