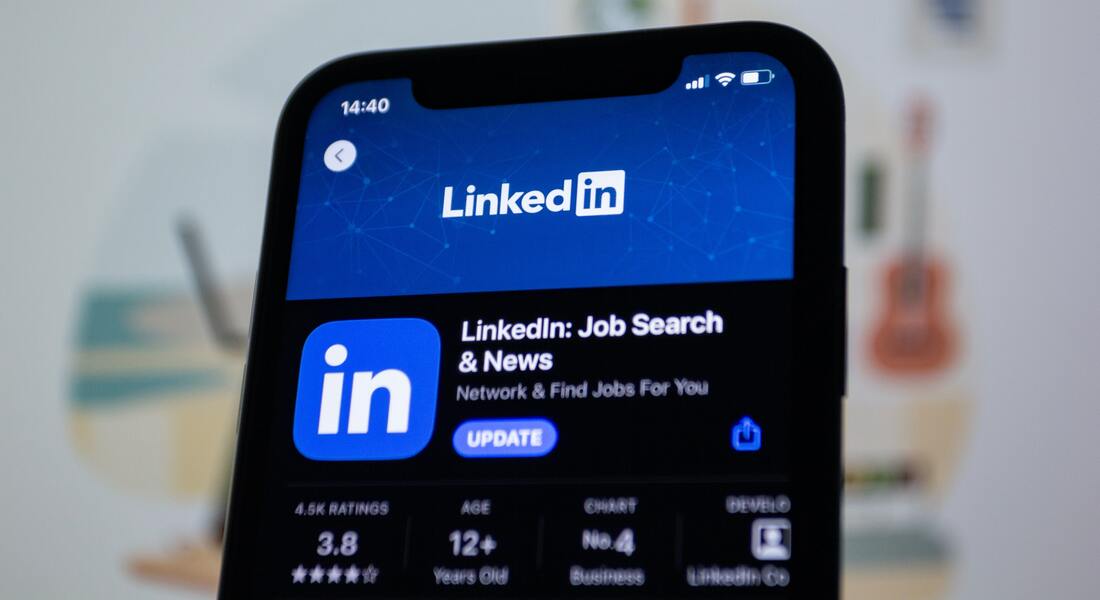 Do you know? Almost 5% of the world's population, or 4.74 billion individuals, are active social media users. And LinkedIn is one of them.
LinkedIn is one of the most important social media tools for taking key decision-makers for professional buyers and sellers. While consumers rush to social media giants like Facebook and Instagram, the skilled workforce uses LinkedIn to find fresh talent and expand their professional networks.
LinkedIn began its journey in 2003 and has quickly established a stable market position. According to Social Shepherd, over 875 million people use LinkedIn now.
As a large number of users are using LinkedIn, of course, there is a reason behind it. People are getting massive benefits from LinkedIn. More than 52 million people use LinkedIn to search for new job opportunities every week.
Jobseekers can save time and effort by starting their search on LinkedIn's dedicated job search page. They can look for jobs in their field using LinkedIn's search tools and filters.
This article will suggest successful ways to boost eCommerce sales with LinkedIn.
Why is LinkedIn best for boosting sales?
Do you ever think about why LinkedIn is best for boosting eCommerce sales? Here are some reasons.
Reason 1: Helps Your Business to Expand
In eCommerce, you can always appreciate the importance of business expansion. To run an eCommerce business successfully, brand recognition is always essential.
In the age of marketing, creating visual brand value is challenging. But a professional LinkedIn profile can solve half of this problem. Now you can ask how?
Suppose you regularly post on LinkedIn from your business account, and 100 people see your posts daily. You never know; maybe five people will knock on your door to get the service you offer.
As a result, the number of customers and prospects will increase significantly. 
Reason 2:
LinkedIn

is The Best Place to Share Your Story

With a LinkedIn company page, you can introduce your company and highlight its achievements, goals, and unique selling points. 

If you successfully establish your brand's value in people's minds, people will pay attention and share their opinions about your brand.

So make engaging posts and stories for your audience. Do not explain something fake. Audiences prefer to see real things instead of embellished stories. You can share your success story, and customer reviews with your audience.
Reason 3: Allows You to Meet Other Business People
It is no secret that LinkedIn is a great place to meet business owners and entrepreneurs. The crowd of all types of professional people made LinkedIn a perfect place for introducing each other. And this thing happens extensively in the same community.
Creating a good bond with other companies is essential to sustain the industry when doing an eCommerce business. You do not need to create a good bond with the people in your same industry. In reality, it could be anyone.
For instance, if you are doing a B2B wholesale business on an eCommerce platform (Shopify), good relations with a supplier, distributor, or any third-party bulk order app seller could benefit you. In the same way, LinkedIn could be a good idea if you are doing a product customization business and looking for a product personalizer app seller.
Relationships between companies can also lead to good opportunities for both sides, like podcast interviews, blog guest posts, email campaigns, affiliate partnerships, and joint promotions like contests and giveaways.
Reason 4: Makes You an Expert
LinkedIn automation is another excellent tool that can facilitate the generation of leads. You could use "LinkedIn Sales Navigator" to compose emails and export them to a CSV file or customer relationship management system for sales outreach initiatives.
Keep in mind that more time spent on LinkedIn equals more revenue. Learn as much as you can about LinkedIn to hack your business growth. Using LinkedIn as a tool is mandatory to establish your business in your field, especially in modern times.
Both trust and interest are beginning to grow as a result. Additional online exposure and enhanced brand recognition can be achieved because the content can be shared.
Reason 5: Improves the SEO of a Business
Search engine optimization is an essential part of the marketing mix for any successful online retailer. Many businesses use LinkedIn because it helps with search engine optimization (SEO), increasing potential clients' traffic.
LinkedIn is the key to building a successful eCommerce business, but it is an example of an ideal marketing strategy in most cases.
Businesses that sell to other companies instead of consumers use LinkedIn's most successful advertising.
Having a LinkedIn profile for your eCommerce brand is still a good idea. But remember that if you sell the product to repeat customers only, you may notice a slight increase in sales. In such cases, reaching out to prospects is essential for excellent brand visibility. And SEO does that very well.
According to Inte-rgrowth, 66% of people search online before buying anything. When your product's SEO has improved, your product information will be shown on LinkedIn. Here you can see an example of how LinkedIn SEO works.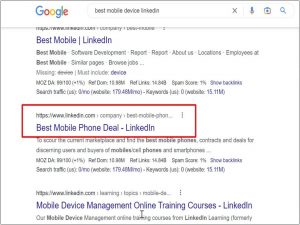 Here you can see, after searching for "best mobile LinkedIn", some of the posts on LinkedIn have appeared. 
What Are the Ways to Boost eCommerce Sales with LinkedIn?
So we already know why LinkedIn is best for boosting sales in eCommerce. Now we will see the ways of increasing sales.
Way 1- LinkedIn Marketing
Using LinkedIn advertisements is a great way to boost the revenue of an eCommerce business. With LinkedIn Ads, with pinpoint accuracy, market your goods and services to a broader audience. 
According to Hootsuite, in terms of advertising channels, 79% of content marketers think LinkedIn advertisements are the most effective.
Put your imaginative ad-making skills to good use on LinkedIn. You should try out several LinkedIn ad templates to make these ads to see which works best.
Online advertisements are a great way to build recognition for your company, attract new customers, and convince prospects. More sales can be made with the help of ads because they may be used to create effective campaigns.
Using different LinkedIn automation tools is an excellent approach to boosting sales in your eCommerce store. You can run custom email campaigns and a communications workshop using automation tools. Use a tool to gather essential data about your consumers and send out automated connection requests.
Additionally, using these resources expedites communication and aids in increasing online sales. Find all the relevant product suppliers in your target area with a LinkedIn search, and then contact them directly to tell them about your company and its offerings.
This is not the end here. Automation tools have several benefits and perks as well. For instance, ensuring a live person answers the phone 24/7 is impossible. But an automation tool can do that easily.
Furthermore, they are adequate for having a particular conversation and are deeply rooted in context. LinkedIn automation tools are great because they eliminate tedious tasks and allow your business to focus on something more substantial.
Way 3- Use LinkedIn's Multilingual Capabilities
LinkedIn's ability to translate content into multiple languages is a powerful feature. To reach your target audience better, you can now translate your business page's description, ads, and posts into many languages using this handy tool. More people will visit your site if you make it accessible in their native and other languages.
People worldwide will be curious about what you say, which will improve your site's traffic and, ultimately, your eCommerce business's revenue.
Way 4- Share More Product Images and Introduce Your Staff on 
LinkedIn
Including additional images of your products on your LinkedIn profile is an excellent way to boost your online store's sales. These pictures make an immediate impression on your audience, and we all know that things that can be seen quickly get our attention.
But remember that the photos you use must be relevant to your goods and brands. Try to avoid adding low-resolution images. Try to add pictures made by an in-house graphic designer.
Way 5- Share Interesting Content on LinkedIn
A LinkedIn presence is essential nowadays if you are just running an eCommerce business. To increase engagement, you can post blogs, infographics, and business-oriented posts on your LinkedIn profile. The impact of publishing and sharing original content as a brand always adds extra value.
These contents help people find your company and motivate them to follow you, which allows your fan base to expand.
Remember your brand and target audience when deciding what to post on LinkedIn. Making such posts that people can relate to their needs and pain points. It is a great strategy to build a bridge between businesses and buyers. Moreover, regular activities in social media and blog posting incidents are part of the company's routine.
Also, exciting content on LinkedIn has a lot of benefits. For example, when people read the post, they can determine what your brand stands for.
The posts should be written in clear, concise language so the target audience can easily understand the information. People who enjoy your posting are likelier to purchase what you're offering. This will cause a more significant increase in sales for your store.
Way 6- Utilize LinkedIn's Groups Function
LinkedIn's groups and forums are also an essential part of your business. Join these LinkedIn groups and post regularly if you want to increase the number of leads for your business.
Sometimes it helps to get a direct customer looking for the perfect solution for their business. Getting direct customers from social media has a significant impact on the revenue of an eCommerce business. 
However, before making a post, you should choose the best place to reach your intended audience. You should join LinkedIn groups related to your area of expertise. You can gain the trust of your target market in your brand by doing so.
Participation in these groups is a great way to show off your expertise and experience in the field.
This means that if you join LinkedIn groups, you can increase the number of people who buy from you online and those who look at your business profile.
Way 7- Make Sure that your CTA Stands Out
Including a clear call to action after your posts is one of the best ways to boost sales in your eCommerce business. Whether you're publishing an article, a blog post, or a LinkedIn video ad, you should always include a CTA that instructs readers on what they should do next.
You can suggest they follow your social networking accounts, such as Facebook, Instagram, and Twitter. Also, include a link to your website and invite readers to check it out. 
Your CTA must be clear and compelling to persuade your audience to take the actions you suggest. With this strategy, you may rapidly expand your online store's revenue and AOV.
Bottom Line
There is no doubt that LinkedIn is the best medium to market your product and boost eCommerce sales. Utilize LinkedIn like a pro and surprisingly increase your sales. To get a better outcome, follow the given methods.