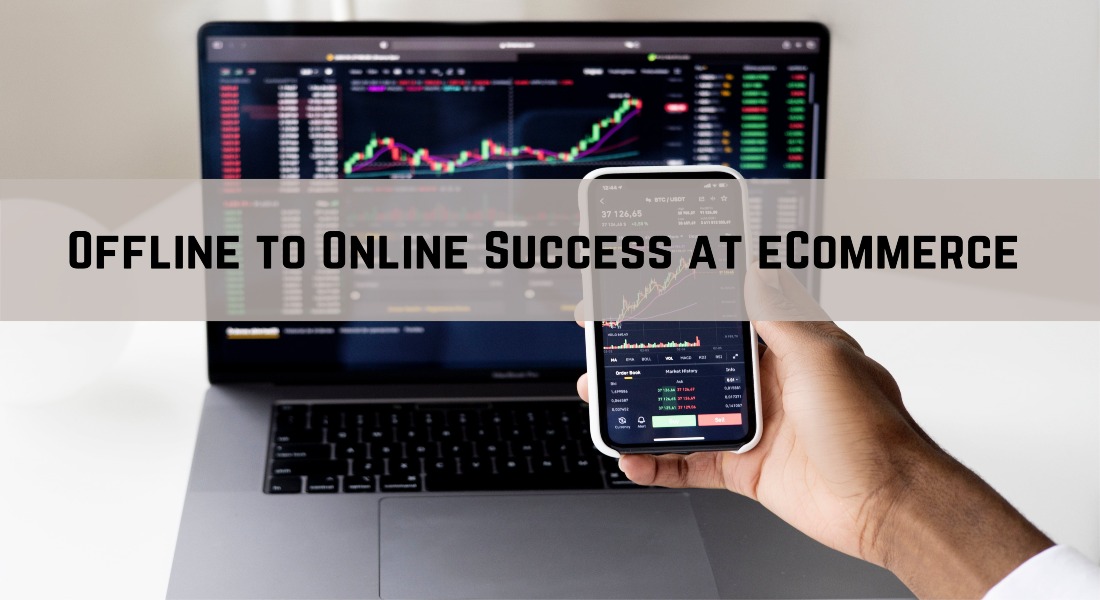 Got a tremendous success in your eCommerce business? Planning to spread out at the brick-and-mortar now? This is the time to make your store visible on both platforms. You know your way around marketing if you've built a successful brick-and-mortar business.
However, getting people to visit your online store might take time and dedication. Your online business gives you access to a broader area of potential clients and gives you complete control over their purchasing experience. Still, remember that even if you build a platform, people will still need to come to it.
In this article, we will discuss online business success tactics. 
Why is Traffic Important for online business success?
Paying attention to how many people visit your website daily is a fantastic marketing tactic. The volume of visitors to a website is crucial for several reasons. More exposure to your site means more potential buyers.
Your company's chances of making an impact, gaining new leads, spreading word of mouth about your brand, and forming new connections directly correlate to the volume of traffic that visits your website.
The ability to establish rapport and trust with potential buyers is crucial to the success of any organization. An increase in visitors brings benefits beyond monetary gain. Increasing your website's visitor count can help your company develop new offerings, open new stores, and increase production.
Ways of market your Shop Online 
Way 1- Utilize The Positive Aspect of Email Marketing
A solid email marketing plan is essential for an offline store. Gather as many email addresses as possible from your clients, prospects, and event attendees. Once your online store is ready for business, notify your subscribers.
A referral discount or special offer for subscribers to your email list might be a great way to get people talking about your eCommerce business. Over the past year, there has been an uptick in email interaction, as reported by 77% of marketers. And Email marketing always leads to higher ROI.
As a result, nowadays, Email continues to be one of the most powerful marketing techniques in the eCommerce industry, so ensure you keep gathering email addresses for your business. Furthermore, some companies use pop-up boxes to entice customers to sign up for their email lists in exchange for a small discount or free delivery on their first purchase. They also keep the lines of communication open with your email list subscribers.
To get better results in an online store, create a consistent schedule for sending out emails and use it to inform customers about sales, updates, and new features.
Way 2- Increase Your Social Media Activity
If you own an online business, you should always look for ways to increase digital interaction. Giving your social media accounts extra attention and filling them with exciting photographs and videos is a simple and successful strategy.
Hosting freebies, collaborating with bloggers active in your industry, and using relevant hashtags are terrific methods to make the most of social media.
According to Influencer Marketing Hub, there will Be 35%+ more Social Buyers in the U.S.
If you have a dedicated following to follow social media trends and are interested in targeting clients, now is the time to expand your reach. Publish more often and put in more effort to provide exciting visuals and snappy videos.
Increasing interaction with your followers can help them remember your brand. Promote exchange and include user-created material.
Now is the time to improve your online profile. You can be anywhere. Put your efforts where they will do the most good: in front of your ideal consumer base.
Way 3- Make the best use of Search engine optimization (SEO)
There are many moving parts to search engine optimization (SEO), and trying to optimize can feel like falling down a rabbit hole. If you are just starting, keep these points in mind:
Think like your customer: how are your items being discussed, and what information are they seeking?
Product titles and descriptions, photos, blogs, and other information are all examples of what is known as "on-page content." The content should employ the language that your clients would use if they were searching for products like yours online, and it should also address any questions or concerns they might have.
Meta tags should not be overlooked, either. Title tags, which function similarly to headlines for humans, inform search engines about the content of each page.
You should use a different title tag for each page on your site. Summaries of each page are called "meta descriptions." Users will first notice your title tag and meta description when your site appears in search engine results.
Way 4- Produce Material That Is Both Engaging and Informative
Creating high-quality content for potential customers is an excellent strategy for increasing site traffic and establishing your company as a market leader.
Way 5- Test Google AdWords
Bidding on keywords in Google Ads for search engine marketing might get you to the top of search engine results pages. SEO is all about climbing to the top of search engine results pages, but so that you know, Google Ads will always come up first.
Ads on Google AdWords typically have a CTR of 2.35.
Search engine marketing is a fantastic online promotion because of its low entry barrier and high potential for generating new visitors. You'll be able to see the outcomes instantly and make adjustments to your advertising strategies as you go.
Way 6- Promote Your Business on Social Media
It makes sense to put marketing money into social media because that's how you can advertise. Hubpost says that 77% of the people who have used social media to promote their business think they have had some success.
Instagram might be a better investment than Twitter if that's where your target demographic hangs out online. Images and video clips can be used in advertisements, but you should ease into their utilization.
A photo ad is a creative way to reach new customers. If your product's initial results are promising, try using basic, engaging visuals of the product in use and altering your strategy accordingly.
Way 7- Collaborate With Brands that Complement Each Other
Join forces with complementary businesses and promote each other's products. Look for a company that sells something that complements your own yet appeals to a related demographic. 
This approach allows companies to reach an entirely new and highly relevant customer base. For instance, a relationship with a hiking shoe manufacturer would make sense if you offer camping equipment.
SproutSocial reports that 91% of Internet users believe in social media's ability to unite people. 78% of customers want firms to use social media to facilitate customer interactions.
Successful cross-promotion techniques can boost revenue at any point in the customer lifecycle. Promotional activities at the top of the funnel may include supporting an outdoor living podcast or blog.
A co-branded gift guide could be an effective marketing strategy during the right holiday season. Down-funnel advertising strategies include offering discounts for bulk purchases.
Way 8- Take Part In Virtual Gatherings and Conversation 
There may be opportunities to raise the profile of specific communities as internet communication and events multiply.
Airmeet reports that 84% of its users have participated in a virtual event or meeting over the past 12 months. This figure is anticipated to increase as the convenience and use of online meetings grows.
Use webinars and online conferences to spread the word about your company and demonstrate your knowledge in your field. You should take advantage of any possibilities for online shopping malls and marketplaces.
Way 9- Make Use of Influencer Marketing
One definition of an influencer is an individual who commands a sizable online following and may thereby "influence" the purchasing decisions of that following.
If you collaborate with the correct influencer, they can introduce your product to their massive following of potential buyers. If you want to get the most out of influencer marketing, you need to pick an influencer whose audience matches yours and whose values are congruent with your company's values.
Common influencer marketing strategies include having an influencer write a blog post, review or demonstrate your product on social media, or speak at an event.
Way 10- Make Use of Your Physical Shop
You can leverage the face-to-face time you spend with consumers to promote your online shop if they know and like your brick-and-mortar store.
For instance, encourage customer loyalty to your brand long after they've left the store by providing non-intrusive ways to interact with it. At checkout, you can encourage them to join your email list, explain your loyalty program, and highlight any current social media specials they may be interested in.
Distribute fliers with discount codes so customers may tell their friends and family about your store even if they don't live nearby. The people who patronize you in person have the potential to become your most ardent supporters and advocates.
Way 11- Make Use of Third-Party Apps
In your offline store, you can provide the best service to your customer because they are visible to you. But, in the case of an online store, the concept of customer service could be more precise and more tactical.
To make your eCommerce customer satisfy, you have to offer them perks and extra facilities so that they can become your loyal customers. Because the industry of eCommerce is highly competitive, it is easy to lose customers without professional monitoring.
In that case, you can offer suitable third-party apps to your customers if you are running your store on a platform like Shopify. Some applications provide extra features that are only sometimes available by default. For instance, Shopify does not allow one-click add-to-cart in bulk ordering. 
But here, we show an app that will help wholesale buyers buy products in bulk. This could be a good bulk order app for online success.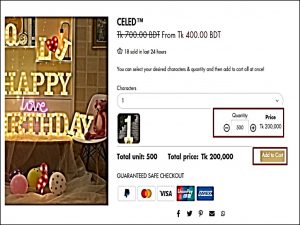 Here we can see this app allows customers to add 500 products at once and allows one-click add to cart. Which ultimately works as a helping hand for an online store.
Bottom Line
Feeling overwhelmed by the prospect of selling online for the first time is natural, but taking baby steps will get you there.
Keep your confidence, wait until the right time, and avoid pushing yourself without making any plans. The best way to promote your eCommerce business is to make adjustments and enhancements when you observe positive results. With this method, you can maintain your progress and achieve your goals. To know more, read this article about online marketing at Shopify.