What is a Wholesale Distributor
A wholesale distributor usually purchases products in bulk from manufacturers directly. These products are then sold to retailers who finally sell them to customers. So, a wholesale distributor generally acts as the middleman between the manufacturer and the retailer.
In simpler words, wholesale distributors buy high-demand products in bulk at a low price from manufacturers, thus helping manufacturers in active marketing, selling to retailers, and finding out new retail avenues.
Essential Tips To Find the Right Wholesale Distributor
Finding the right wholesale distributor for your business is not easy. Also, your business success is mostly dependent on how conveniently you can manage your perfect products from a perfect distributor. Here, we have summarized 7 essential tips for your business to find your desired distributor. Follow these tricks and implement them to stand out from your competitors –
#1. Read the label And Find The Manufacturers
Try to contact the manufacturers directly by reading the label of a product. Almost every product label contains manufacturing details. Read the details to inquire about the manufacturers.
If you can contact the manufacturers, convince them to give an official list of the distributors. This will help you to find out legitimate and the right wholesale distributor and weed out those middlemen who might take a percentage from your profits.
#2. Search google to find distributors
If you want a list of wholesale distributors in a short period of time, do some online research. But finding them on google is not an easy task as very few of them optimize their websites for search engines. However other than following the regular searching methods, make some targeted searches.
Take the following tips into consideration while searching online for wholesale distributors –
Narrow down your search by including the location and industry. For instance – "

wholesale distributors in Dallas"

. That way, it will be easier for you to find the desired distributors in your geographical area.

Check the reviews or feedback to find a reliable distributor. This will help to find a reputable and good-fit wholesale distributor for your business.

Try other search terms such as distributors, resellers, suppliers, or wholesalers with the specific product name. 
Suppose you are searching for bulk t-shirt sellers. The precise search criteria might be – "t-shirt wholesale distributors in Dallas"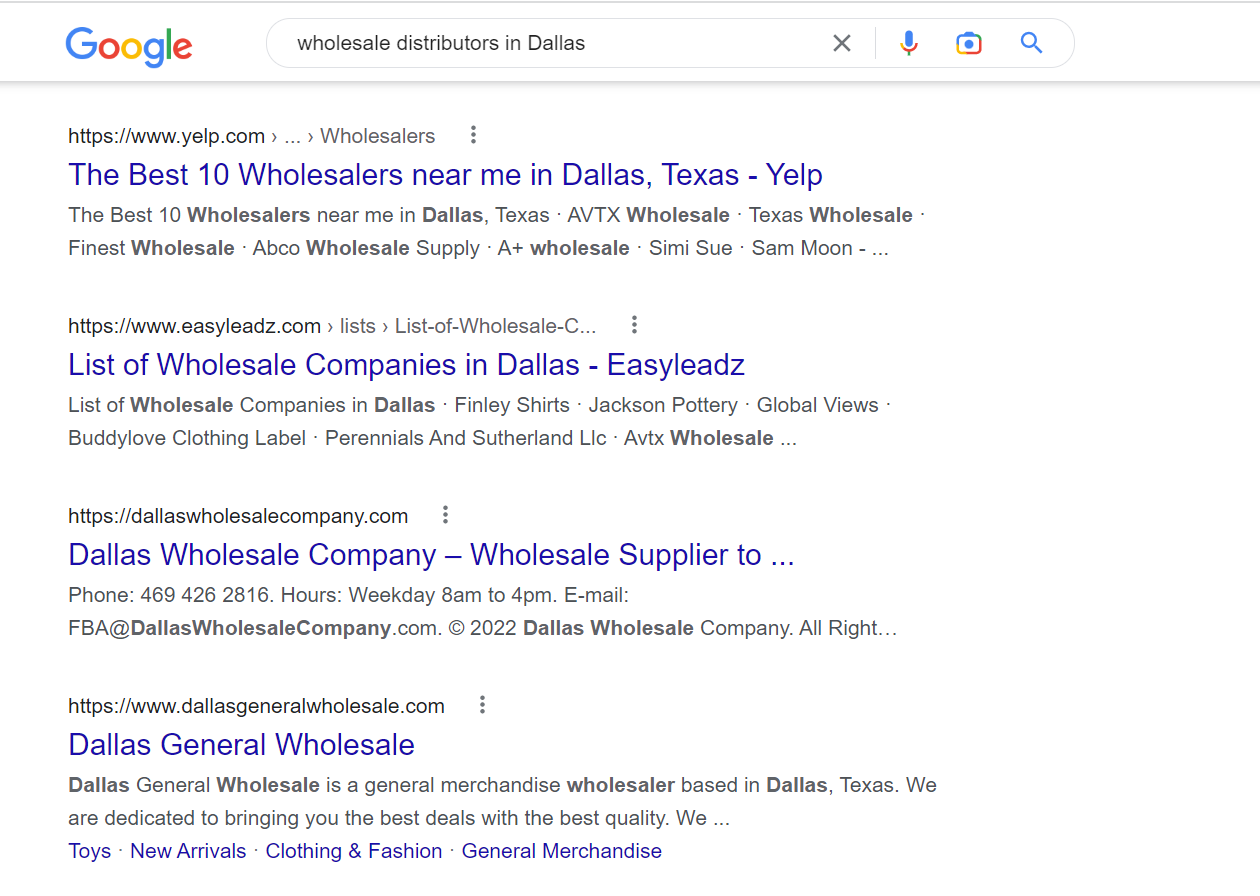 #3. Check major B2B marketplaces
You will find many online marketplaces where you can buy large amounts of products at low prices. Find your suitable marketplace and register as a retailer. One such famous marketplace is Alibaba.com. Besides, some other marketplaces are –
eWorldTrade (USA)

GlobalSources.com (Hong Kong)

Buyer Zone (USA)

Global Sources

Busy Trade (Hong Kong)

EcC21 (Korea)

EC Plaza (Korea)
Check which marketplace will be a convenient one for you and also check whether they serve your location or not. Find you select your desired marketplace, and register there as a retailer. Read the customers' reviews, and specify your needs and products before choosing any distributor.
#4. Attend Trade Show
Trade show events are opportunities to face-to-face communicate with manufacturers and distributors. Talk to a dozen of manufacturers or wholesalers and compare the quality of products along with the prices. So, at the trade show, you have the best scope to negotiate and find your perfect products with the best prices within your budget. It will also save you time finding a suitable wholesale distributor for your business as you will meet a large number of distributors in a single day. Attend a trade show to avoid misinformation that might occur while contacting online.  
Besides, follow the largest trade show directory online – TSNN (Trade Show News Network). Find your desired trade show by searching with the location, event, or country name along with the date.
#5. Ask For Referrals
Find local manufacturing associations, and business organizations and gather information about the reputed wholesale distributors.
Once you join an industry association, build acquaintance with experienced businessmen who can give you information regarding reliable wholesalers. Ask for referrals from them and make a list of reliable wholesale distributors.
#6. Grow Your professional network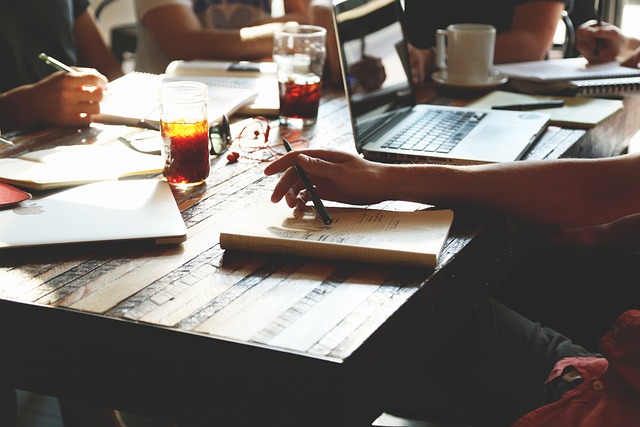 Experienced small business owners in your niche can be a great source of information. You will hear about the best wholesalers from them. Spend your time building your trust and network with them. Build your professional LinkedIn profile and other social media profiles as well.
Connect with the local chamber of commerce and follow professional newsletters to build your professional network.
#7. Check Feedback Regarding Online Wholesalers And Make Decisions Wisely
Join online groups or communities to get recommendations from other business owners. Finding relevant distributors of your products will be easy once you join the professional networks. 
Besides, you can take your decision wisely once you check feedback regarding an online distributor. A wholesaler might have negative reviews because of its high For instance – placing orders from some stores might be very complex and time-consuming. This happens when store owners need to be more sincere about optimizing their product page. When placing bulk orders from these online stores, customers may not be satisfied with the order placing system.
Especially when a product has multiple variations and you want to place a bulk order for all the variations. If the product page is not optimized, a customer has to go back and forth several times to place the order. This is time-consuming.
For instance – store owners using the Shopify platform have optimized their stores using technology solutions, where you can easily select your desired product variations from a single product page, check how many are in stock, see if they are offering any discounts on MOQ (Minimum Order Quantity), and place the bulk order with one click on Shopify. This will obviously save you valuable time and money. 
So, you will only know about all these scenarios once you join online communities, check feedback regarding online wholesalers and take your decisions wisely.
 Tips for communicating with a distributor
Communication plays an essential role in making a good deal with your distributor. Here are some tips about how you can make a good deal –
Be honest while communicating with your distributor. You are a small business owner with a limited budget, tell that clearly to your vendor. This might encourage vendors to give you products on partial payments.

Make your conversation concise and specific. Do some preliminary research about the distributor to make the discussion more precise. That way, your distributor will find it easy to work with you and you will get preferences while making deals compared to others.

A few important questions that you might ask while making conversation with a potential distributor – 
What are your pricing options and

MOQ? (Know the importance of MOQ in wholesale business from

here

)

What is your return policy?

Will you provide a dedicated sales representative?

Can you ship products quickly if  I need more stock?

What are your shipping processes and terms?

What is your contract process?
In addition to the above questions, ask any relevant questions you need to know
Conclusion
Your business success depends on finding the right distributor. By now, you know different ways to find the right wholesale distributor for your business. It is always appreciable that you continue your dealings with a distributor repeatedly but being totally dependent on a single distributor is unwise. Be open to making deals with new suppliers.