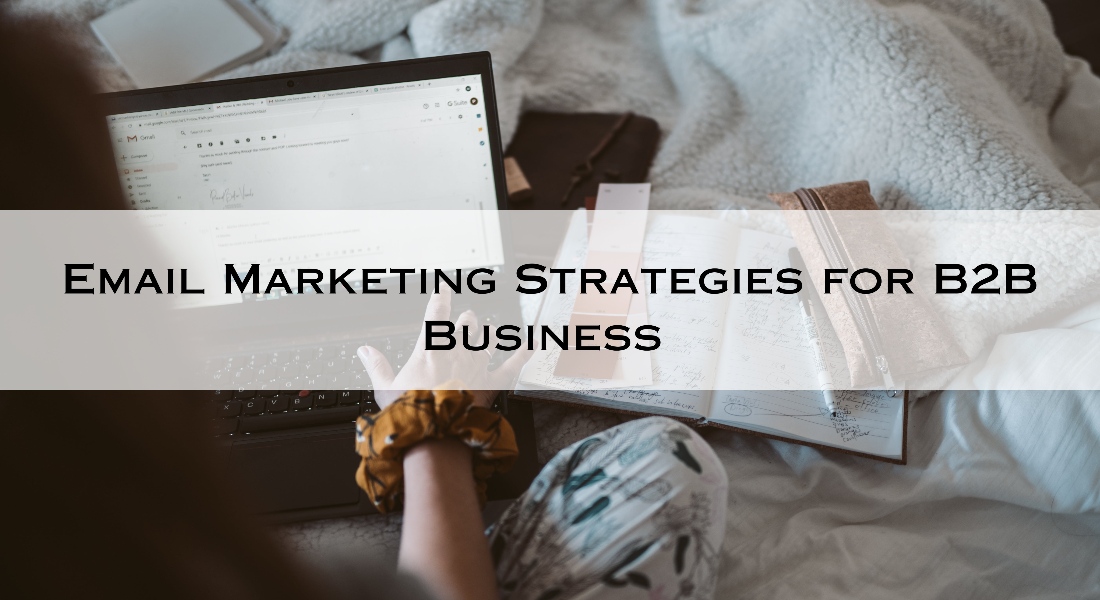 Businesses' Brand value and revenue depend on professional marketing strategies. Strategic marketing helps organizations to reach their target demographic and build consumer connections very quickly. Because of a perfect marketing step, brand recognition, loyalty, and sales can rise in a significant way.
If you are a B2B business owner, you must choose the best communication channels that suit you best. For example, a small local business may profit from word-of-mouth promotion or email marketing, whereas a larger business may utilize social media and SEO marketing.
The Content Marketing Institute predicts that 69% of B2B companies will distribute content via email newsletters in 2022.
Nowadays, email marketing has become the  fastest and most efficient way to deliver and receive business-to-business information. In this article, we will talk about how to use an email marketing strategy to grow B2B eCommerce businesses.
A B2B Email Strategy Is Essential, But Why?
The buying process in B2B is more complex and takes more time. To win over these decision-makers, you must craft a custom message emphasizing the speedy return they will get on their investment in you. Customers' decisions are greatly influenced by their estimations of value. Before deciding on a marketing strategy, it is essential to consider the information requirements of your target market.
According to Fluent CRM, Email distribution is the primary method used by B2B marketers (93%). Email newsletters are the most popular form of content marketing, employed by 81% of B2B marketers.
Top Strategies to Use Email Marketing to Grow B2B eCommerce Business
Strategy 1- Create a Mailing List
The first step in perfecting your B2B email marketing strategy is to create your list. Increasing your subscriber base will help you attract qualified prospects and move them further in your sales and marketing pipelines.
If you want to build a subscriber base, you need an opt-in form that showcases the value of signing up for your newsletter. Lead magnets, an appealing incentive in exchange for a visitor's email address, are commonly used by B2B marketers to boost their registration rate.
You can utilize an e-book, whitepaper, presentation, checklist, or anything else that could be of service to a potential client as a B2B lead magnet. You may generate more B2B leads with appealing offers by using landing pages in addition to your forms. All you need to capture your subscribers' information and transform them into buyers is a catchy header, a compelling value proposition, and a compelling call to action.
Strategy 2- Segment your Clients into Different Email Groups 
One of the most crucial things you can do to make your marketing and sales communications more effective is to segment your audience. You can gain an edge in the market and a deeper understanding of your customers by collecting and analyzing data from your email subscribers.
Regarding B2B email marketing, business-oriented segmentation strategies are preferred over the more consumer-friendly demographic and psychographic groupings. You can boost the usefulness of your email communications by using list segmentation. It's vital to divide potential customers into smaller groups before pursuing them.
Let's say you run a B2B wholesale business at Shopify. Your store now has a third-party bulk order app for Shopify because you want to give your users additional choices. Not all of your customers have the exact wants or needs. Some of them might want to sell items in a bundle, or they might want to set a minimum order quantity (MOQ) in their store to handle their stock better. You can make a different list of them and send them personalized emails if you want to.
Creating a group-connected strategy can also be helpful for new connections because an appropriate email can turn them into loyal customers. In the B2B industry, making a usual customer into a loyal one is a challenging task. 
Strategy 3- Send Greeting Emails
Successful company relationships are built on initial solid client interactions. You may already know that B2C welcome mailings sometimes include discounts for first-time buyers. Business-to-business (B2B) email marketing follows a different procedure.
The first step is to create an effective welcome email template emphasizing the results the subscriber can expect from using your goods and services. You may utilize sales to encourage those who have used your service for free to sign up as paying customers. However, if you take the time to inform them first, you will have a much easier time convincing them to become paying customers.
Strategy 4- Add a Personal Touch to your Emails
If you want your email marketing to be more successful, you must personalize your messages. Construct in-depth profiles of possible clients using the data you have gathered. Creating customer personas to represent your target audience is more effective so you can better understand their needs and goals. 
A case study found that, in the United States, 68% of individuals use the "from" name to choose not to open an email. Emails with the recipient's name in the subject line have a 26% higher likelihood of being opened. On average, email marketing returns 28.5%. Half of businesses report that personalized emails positively impact customer retention.
According to Conversant Media, 66% of marketers are currently working towards getting internal resources to carry out personalized marketing programs.
The B2B customer journey is a good model for the B2B email marketing cycle. You may tailor your emails to the specific needs of your target audience at any given time by basing your marketing strategy on the various points along the customer journey.
The buyer's journey may be broken down into five distinct phases, each of which calls for a unique approach to content creation.
The prospect is curious about your company and offerings but has yet to be ready to buy. Targeting the right audience with informative content like how-to manuals, eBooks, and thought leadership helps increase brand recognition and trust. Their interest in your goods is genuine, but they need more information before they can make a purchase choice. Product demos, customer case studies, and testimonials can all help convince a potential buyer of your product's worth.
The prospect is considering whether to buy or try your product and is considering factors including cost and possible return. Targets might be swayed to purchase through free trials, discount offers, and cost estimations.
Maintaining customers through repeat purchases, subscription renewals, and other means is your priority after a lead converts. Tutorials and in-depth product education can help your audience maximize its benefits and stick with your company.
Strategy 6- Create Different Templates 
Rather than becoming complex, B2B wholesalers should operate smarter. For example, use email templates to simplify your work rather than writing emails manually every day. Moreover, using different email automation tools can help. With these tools, you may schedule the email sending procedure.
But one thing to keep in mind Each email template in your collection should be visually distinct and try to use your brand's gesture in the template. Because if you try to send the same templates to each of your customers, then there is a high chance that they will find out quickly that all the templates you are sending are quite the same.
Bottom Line
For B2B online stores, email marketing can be an effective strategy. Although there are many options to choose from, But you can grab email marketing and you will find it very useful because we know  B2B companies need to reach a  large number of people in a short period of time to keep their cash flow and AOV updated.