Vegablum-A helping hand towards the journey of Veganism
The word "vegan" was formed in 1944 by Donald Watson, who was a co-founder of "The Vegan Society." Traditionally, a vegan doesn't eat meat, dairy, or eggs. There are a lot of non-vegetarians and vegetarians in the world, so the number of vegans isn't that high.
The German Nutrition Society did a study in 2016 and found that about 1% of the population was vegan. As only a few people are vegan, it was hard for them to find food that was good for a vegan diet.
To provide an easy solution, Vegablum is a shop where vegans are encouraged to purchase vegan food.
What is Veganism?
The Vegan Society's newest definition says that veganism is "a philosophy and way of life that tries to keep animals from being exploited or hurt for food or any other reason as much as is realistically possible.
"Vegan" is a word that many people use to talk about diet. This new definition of veganism says that it is more than just eating plants. Then how a vegan can manage perfect food for his diet?
Vegablum's Sweet Journey
Vegablum is a shop run by a couple who are dedicated to veganism and sells vegan products. Their goal is to make the conversion to veganism as easy as possible and to attract prospective foodies with their delicious vegan options.
They've been vegan for around 8 or 9 years now, and they love it. Together, they hope to provide a little sweetness to the world with our vegan products.
Sustainability in food and lifestyle, as well as ethical treatment of people and animals, are essential to them. That's the only way they can ensure the long-term well-being of all life forms on Earth.
As a result, they place sustainability at the top of their list of priorities. They do everything they can to ensure that their products can be sold in an environmentally friendly manner, from packaging made of grass paper to the fair farming of their raw materials. Vegablum sells vegan foods in two sectors.
What Products Do Vegablum Sell?
In B2C shop they sells 
Vegan ElfenTrunk Kirsch organic, 0.75l

Honey fir organic, 225g

The dreamy ones – set of 3

Chocolate peanuts in a glass organic, 150g

Honey lavender organic, 225g

Honey dandelion organic, 225g

Vlinsen – chocolate in a glass organic, 150g

Tapi Dream cocoa organic, 225g
In B2B wholesale shop they selles
Honey

Tapi Dream

Vegan elf drink

Sweets

Kits & flyers
What Business Challenges VegaBlum Is facing?
Vegablum is both B2B and B2C suppliers of vegan goods. They have a separate B2B wholesale segment as we already mentioned, where they sell vegan products in bulk that are both original and unique. They don't want to sell vegan products in such a small quantity to their B2B clients because they want to maintain consistency in their inventory according to their business policy. 
There is another reason for not selling small quantities in B2B wholesale business is, that selling small quantities of products is a barrier to profit generation and results in an imbalance in inventory, especially for sellers who want to sell products in bulk, and for Vegablum the situation is the same.  But what is the solution now?
What Solution Vegablum Found? 
In such a situation, Vegablum felt the necessity to sell products in bundles with quantity selector drop-down features to fulfil their business strategy. 
A common purpose of selling products in bundles is to increase sales by encouraging customers to purchase multiple items in eCommerce. In addition, selling products bundled in B2B allows store owners to minimize their inventory as well.
Besides displaying quantity in the drop-down of the product allows customers to buy products only from their predefined bundle quantity. Therefore, by using this quantity selector dropdown, Vegablum can adjust its inventory stock according to its needs. So, Vegablum just found this bundle idea appropriate for their business.
But unfortunately in Shopify, a store owner can not create a product bundle and display the product as a predefined quantity selector dropdown by default.
In such a case, to overcome all business challenges and meet the business criteria Vegablum just found MultiVariants – Bulk quantity selector app as their solution. But, how MultiVariants drop-down quantity feature works?
How Vegablums Benefited From The MultiVariants Quantity Drop-Down Feature for Shopify
After getting MultiVariants Vegabulm is now able to sell vegan products in a bundle quantity as per they have wished. Now, they are selling vegan products according to their existing product bundle. Let's have a look at their shop –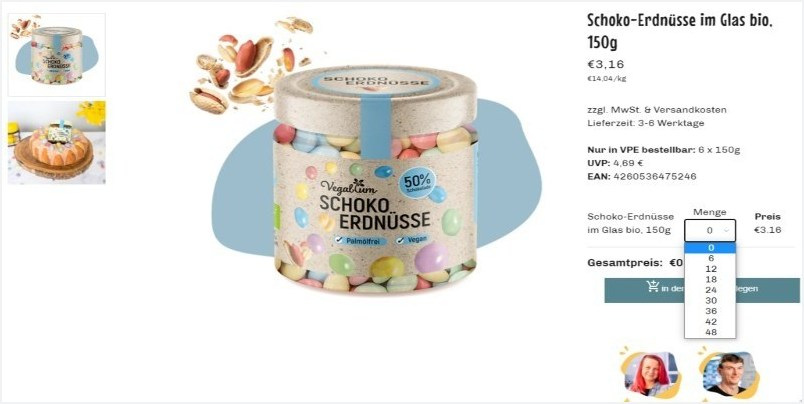 Here we can see Vegablum is selling Chocolate peanuts in a predefined product bundle quantity, which means their customers can buy this particular product quantity from the pre-set drop-down quantity selector only. The quantity selector drop-down feature from MultiVariants helps Vegablum's customers to find and access products on their website with fewer clicks.
Moreover, product bundling and product variant drop-down are saving their money by reducing the number of boxes shipped. Instead of generating print and web ads for every item, Vegablum now can offer them as a package to save money instead of marketing all their vegan products.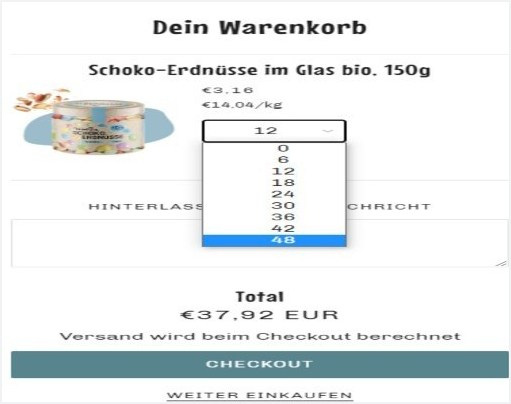 And here is the add-to-cart page of Vegablum products. Customers can change the quantity from the cart page well but the bundle set will be the same.
But without MultiVarinats the  shops looks like in such interface: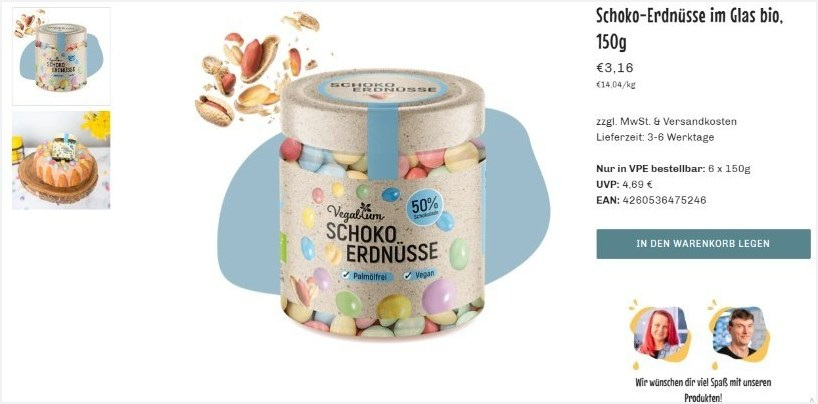 Here a customer needs to choose a product with multiple taping processes, which is time-consuming and not profitable for a B2B wholesale business at all.
Is MultiVariants Bundle Quantity Feature Works For Vegablum? 
As Vegablum just successful fulfilled their B2B wholesale business challenge with this custom bundle quantity drop-down feature then the simple answer is Yes and undoubtedly we can say MultiVariants solves the business challenge of Vegablum and this is how they are excited about MultiVariants:
First I was looking for a bundle app, but no app was really helpful. So now I am using this app, bundle all together as variants and it works even better that way for our requirements. Support is also very quick and helpful! 

– Review from Shopify app store
Here, the MultiVariants quantity selector drop-down for Shopify helps Vegablum to solve their business challenges, if you are also selling a product in a bundle and want to display your product quantity in a drop-down then go and get the MultiVariants – quantity selector app for Shopify.
Bottom Line
To conclude, Vegablum started their business with 6 glasses of homemade "dandelion honey," they now offer nearly 20 kinds of honey, 3 mead alternatives, and chocolate lentils and peanuts. They're always making new items, and testing new inventions, and they feel happy when their vegan products taste great.