Face Mask – A Protective Measure to Prevent Illness And the Spread of Disease
Masks have become necessary in our daily life and are viewed as protective measures in the work environment and at home. At times, face masks become critical items due to various reasons like pollution in the air, during flu seasons and the COVID-19 epidemic, and other critical times.
Wearing masks is essential to prevent the spreading of germs but not all face masks can do that equally. Only Quality products can deal with epidemiological emergencies and other crucial situations.
Mascherine.it – An Italian Based Quality Mask Wholesale Suppliers On the Shopify Platform
With the belief "quality is synonymous with safety", Mascherine.it offers several face masks and other sanitizing products through their online store on Shopify. They offer quality products to individuals, families, and the whole healthcare sector. A few of their products are –
Customers all over the world can buy these products online in bulk. Placing orders online from their Shopify store is easy and smooth. Mascherine.it cares about its customers' valuable time. Their default Shopify store was optimized to fulfill all of their business requirements and now they can offer a quick bulk order placing for their customers.
What Challenges Mascherine.it Faces With Its Multiple Product Variations Display On Shopify
Dexxon FFP2 mask is a type of face mask that Mascherine.it offers through its Shopify store. They offer this product in different bundle pack variations. For instance –
10 pcs (0.39/pcs)

10 pcs (0.39/pcs) Black

50 pcs (0.34/pcs) 

100 pcs (0.29/pcs)

500 pcs (0.23/pcs)
Now, displaying all these bundle pack variations on a single product page has become a challenge for them with their default Shopify store. 
With their default Shopify store, the order-placing system from their store becomes a time-consuming process for their customers. Because the customer has to go back and forth several times from the product page to place a bulk order. So, Mascherine.it decided to find out a solution that would ensure a smooth order-placing system for their customers.
How Does Mascherine.it Displays Multiple Product Variations On a Single Product Page In Shopify
Mascherine.it integrated its store with a Shopify bulk order app that lets them optimize its product page according to its business requirements. The Shopify tool lets them display all of their bundle pack variations on a single product page. Below is the image of their product page –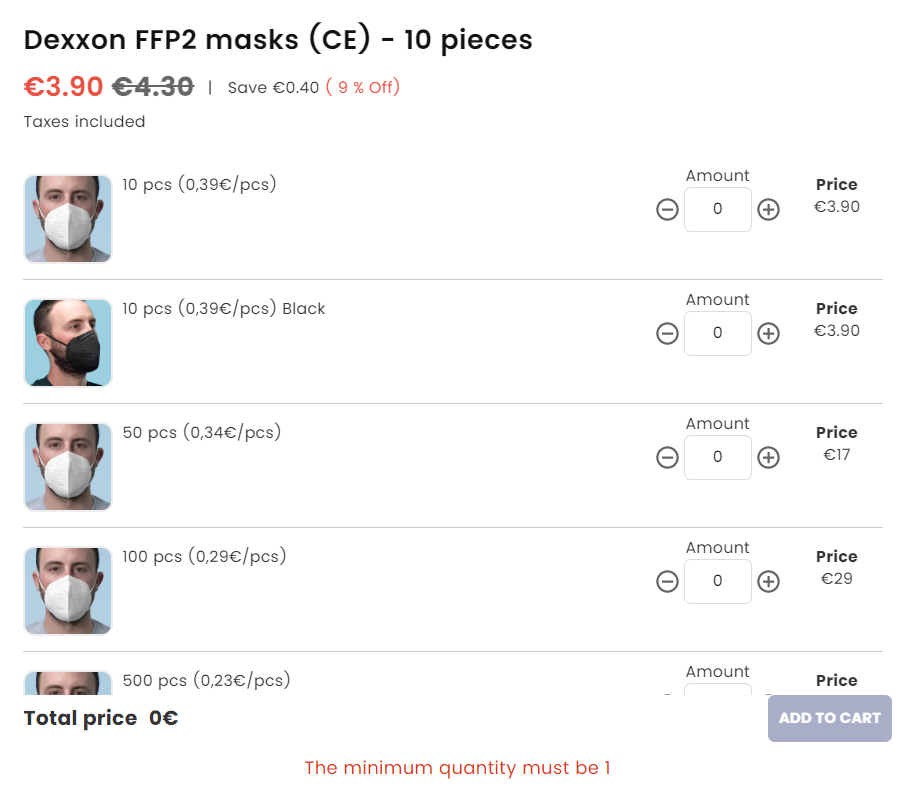 The Shopify tool allowed Mascherine.it to optimize its product page in just a few clicks with no coding knowledge. They can also apply different business restrictions using the tool like Min/Max order quantity restrictions, Mix n Max, custom bundle creation, displaying out-of-stock badges, and other business-oriented features as well.
How Mascherine.it Is Applying MOQ Restriction On Shopify
Mascherine.it is successfully applying the MOQ ( Minimum Order Quantity ) restrictions from its Shopify store with the integrated Shopify bundle app. Although they are applying the MOQ restriction of 1, any value is allowed here. The add to cart button will remain inactive until the customer's order meets the required MOQ restriction.
The below image shows how Mascherine.it is applying MOQ restrictions using a Shopify app.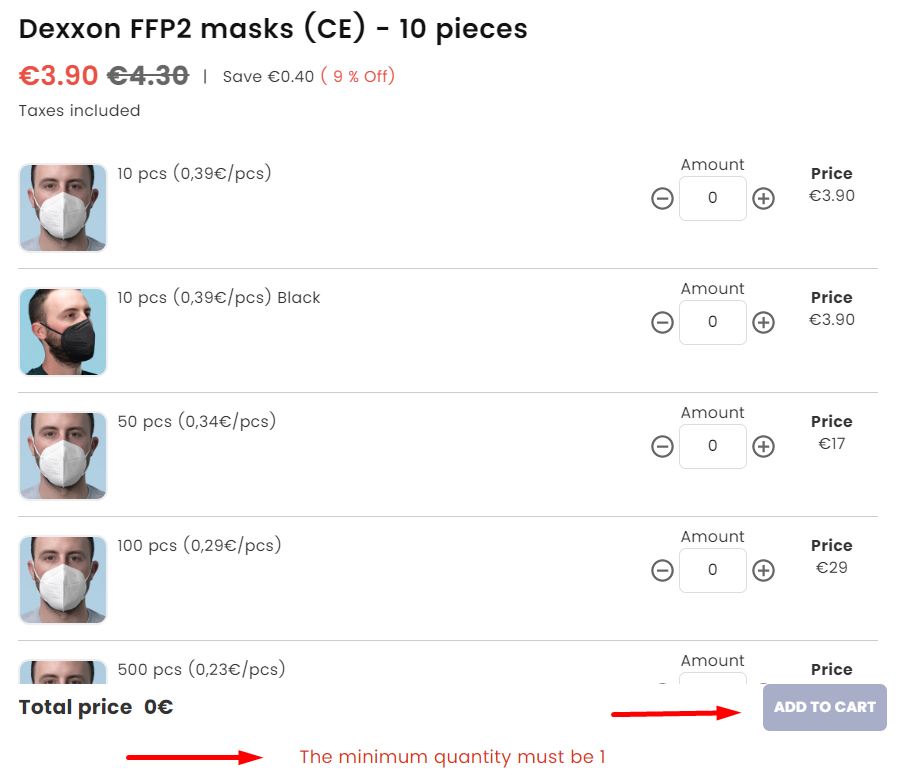 In the below image, it is shown that the add-to-cart button becomes active once the MOQ is met and the customer can proceed to the payment page.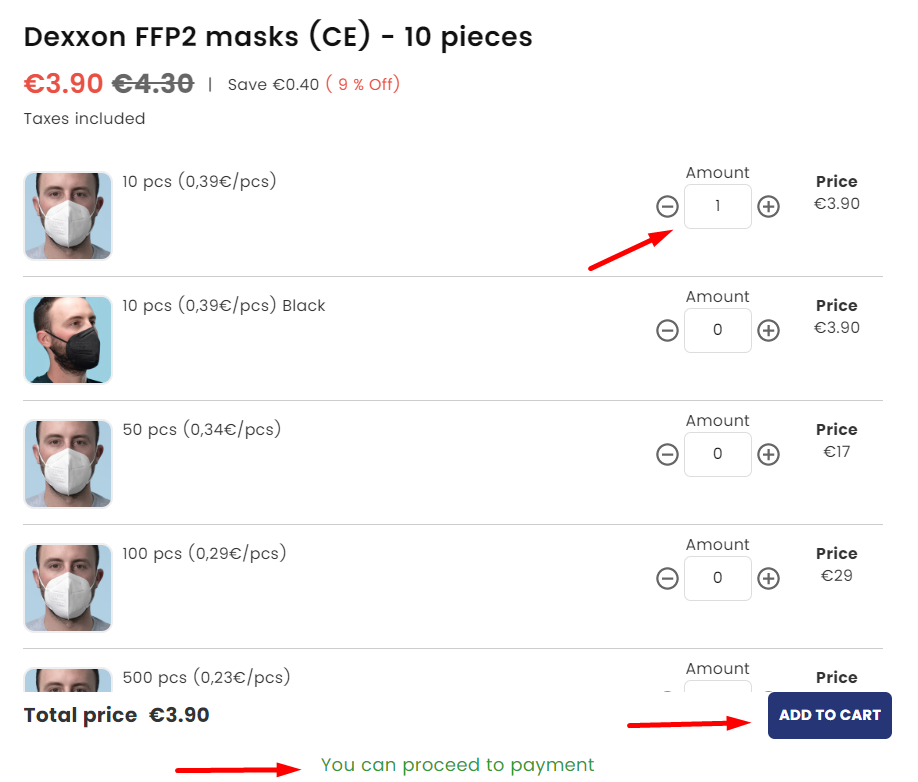 Mascherine.it Has Optimized Its Shopify Store That Helps Get More Loyal Customers
Mascherine.it faces difficulty managing its product variations from its default Shopify store. They wanted to ensure a quick order placing system for their customers from their Shopify store. 
A Shopify wholesale app solves all of their challenges instantly. The app helps them manage their product variations smoothly. That way, they ensure a quick bulk order placing system for their customers. The application helped them grow faster and here are their happy words –
Great plugin and great experience with the customer service. Strongly recommended for anyone looking for a strong and declinable variant management.

– Review of Mascherine.it on Shopify App store
Final Words
Mascherine.it cares about its customers' valuable time. With offering quality Masks from their Shopify store, they also optimized their product page with a Shopify tool. This lets them ensure an excellent shopping experience for their customers that eventually helps them get more loyal customers.