To reduce the ill effects of human activities and improve the individual's livelihood, we all should encourage using eco-friendly products. Because eco-friendly products have less impact on the environment compared to that plastic products.
Bamboo toothbrushes are as effective as our traditional plastic toothbrushes. But, as we know plastics do not easily break down in our environment. Moreover, plastics have a greater negative effect on our environment. So, switching to biodegradable bamboo toothbrushes means you are contributing to saving our environment.
Bumi is a name of a brand that offers eco-friendly toothbrushes. Bumi is offering biodegradable products with a mission to leave smaller carbon footprints and save our environment.
Bumi Philippines – With a Vision To Replace Plastic Toothbrush With Eco-Friendly Bamboo Toothbrush
Bumi means "earth". Bumi is a Philippine-based brand offering bamboo toothbrushes from their Shopify store. They are on a mission of eliminating plastic waste and non-biodegradable materials. 
Besides offering eco-friendly products from their Shopify store, Bumi also cares about their customers' valuable time. This viewpoint let them optimize their online store's product page using technology that eventually helps them overcome some challenges and attract more customers. Let us see what challenges they face from their default Shopify store and how they overcome them.

Bumi's Challenge To Display Multiple Toothbrush Color Variations On a Single Product Page In Shopify
Bumi offers eco-friendly toothbrushes with different color variations. With the default Shopify functionality, they faced some challenges regarding Shopify product variants display. 
For instance – "Bumi Bamboo Toothbrush" has three different color variations –
Color Red

Color Blue

Color Green
With the default functionality of Shopify, all these color variations of "Bumi Bamboo Toothbrush" can not be displayed on a single product page. If a customer wants to place a bulk order, he has to select the product color variations going back and forth several times. This is a time-consuming process that does not encourage customers to visit again and place orders.
Bumi was looking for a solution so that they could avoid this time-consuming process and save their customers valuable time which will eventually help Bumi increase their CRO.
How Does Bumi Display All Color Variations Of Toothbrush On a Single Product Page In Shopify
Bumi's Shopify store was integrated with a Shopify product variants display app. This instantly made them overcome all the challenges regarding displaying all product color variations on a single product page. With this Shopify tool, they can now display all product variations along with adding plus minus button to the quantity selector for each variation.
Bumi did not require any coding knowledge to set up this displaying system from their product page. With just a few clicks from the admin panel of the integrated application, they set this up for all of their products. 
The integrated Shopify application offers 4 styles to display product variant listing on the product page. For instance – List, Select, Swatch, and Matrix/Grid view. Bumi has chosen the "List view" style to display all of their color variations.
The below picture shows how Bumi is displaying all the product color variations on a single product page.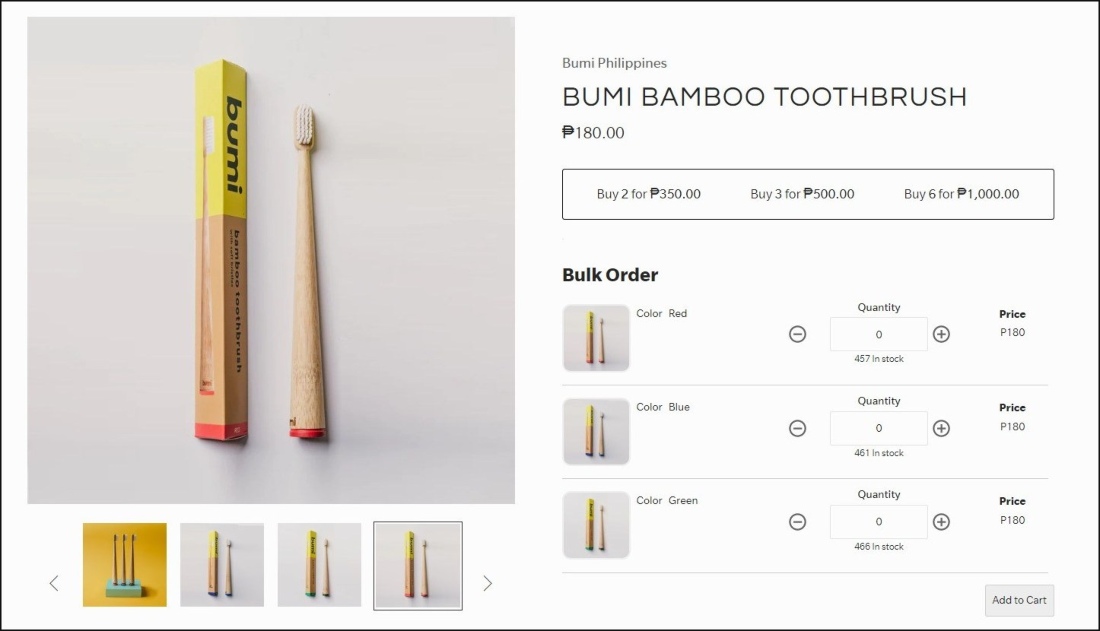 The application also auto-checks Bumi's inventory and displays the in-stock and out-of-stock badges for respective product variations. The following picture shows how the in-stock amount is displayed for each of the product variations on Bumi's product page.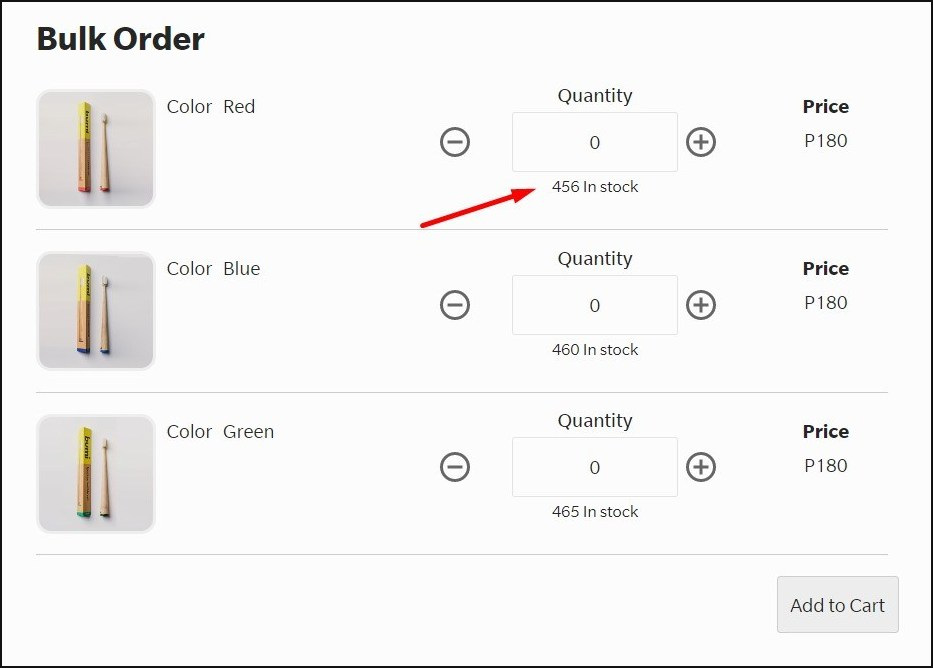 Bumi Is Saving Customers Valuable Time, How?
Bumi's customers can now select multiple product variations from a single product page and place a bulk order in Shopify with just a single click. This is obviously saving their customers valuable time.
Bumi has optimized its online store's product page for the convenience of the customers. It is really appreciable that they not only offer quality eco-friendly products but also think about their customers' convenience of placing orders from their Shopify store.
Here is the positive feedback from Bumi on the Shopify app store regarding this Shopify bulk order app.
This app has a very helpful and efficient support. I highly recommend this app and their services. I give them a 5 star rating

–  Bumi's review on Shopify App store
Final Words
Along with ensuring product quality, Bumi also cares about their customers' valuable time. Their proper use of technology has made it easy for their customers to place orders from their Shopify store. 
Bumi's eco-friendly products are leaving smaller carbon footprints on our environment. Their quality eco-friendly products and application of proper technology are helping them grow faster and be closer to success day by day.