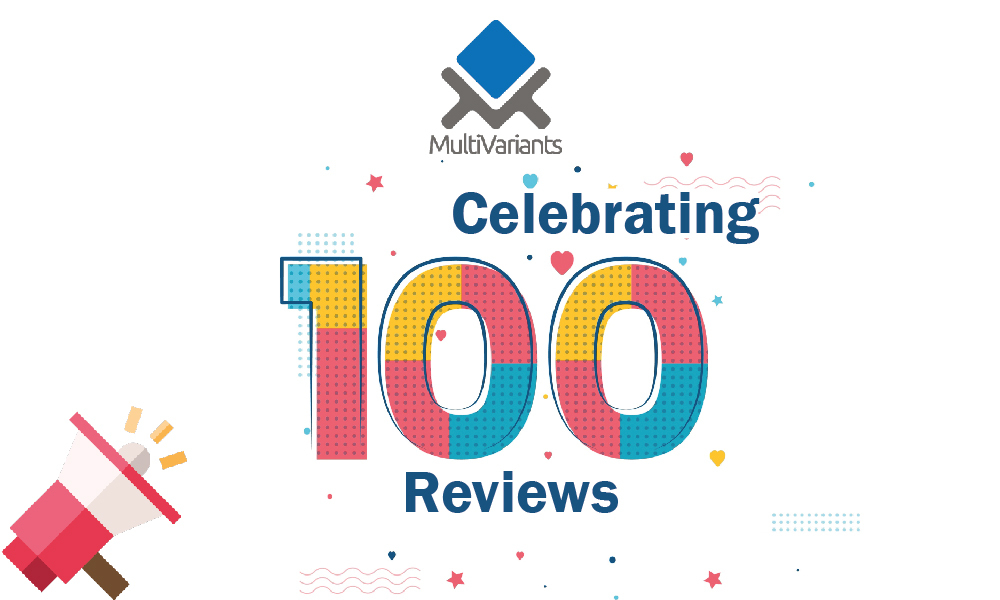 MultiVariants – Quick Order App – Celebrating For 100 Positive Feedbacks On Shopify
Positive reviews are always encouraging. It's always great to hear that your clients are happy with your services. Happy reviews prove that your clients are satisfied and getting the exact business-oriented solutions using your applications too. Achieving good reviews is a challenging task, however, when it happens, it is a great accomplishment. MultiVariants- Shopify Bulk Order Application has just earned its 100th review in the Shopify app store with an average rating of 4.9.
Today, we will talk about the 100 reviews of MultiVariants, a Quick order app for Shopify. First, let's look at the MultiVariants-Bulk Order application and why many merchants have started to trust it for their steady business growth.
What is "MultiVariants – Bulk Order application"?
MultiVariants-Bulk Order application for Shopify just started its journey two years ago. MultiVariants-Bulk Order Application is a tool for Shopify that combines the concepts of bulk ordering and variants into one. It is a convenient application for both wholesalers and retailers.
The motto of the MultiVariants – Quick Order App for Shopify is to save customers valuable time while ordering in bulk. Moreover, this application offers different bundle options which is actually a beneficial fix for the wholesale business challenge.  Here are a few complex rules that many Shopify businesses require that can be applied easily with MultiVariants – Shopify Bulk Order app –
Applying Minimum/Maximum Order Quantity (

MOQ

) Restrictions

Displaying multiple variations of a product on a single product page

Adding Shopify

custom quantity selector

(dropdown),

interval-based quantity

Allowing bulk orders with a single click

Setting

minimum and maximum order values

for products and product variations
With this application, a wholesaler selling products with multiple variants can easily set up a quick way to place customer orders. This app also helps store owners keep track of their inventory, which is beneficial for both retailers and wholesalers. Overall, the MultiVariants – Bulk Order application has the ability to solve problems for merchants by increasing the following important matrices –
Conversion Rate (CR)

Average Order Value (AOV)

Customer Lifetime Value (CLV)

Customer retention.
Essential Business-Oriented Features of MultiVariants – Bulk Order App
Offering quick bulk orders, creating custom product bundles, applying min/max order limits (MOQ), Mix and match are the top features of MultiVariants, but this does not end here, it has many more features like –
Works with all Shopify theme

One-click add to cart 

Display available stock quantity for variants

Show out-of-stock badge 

Support Multilanguage 

Installation without coding 

Free trial with three user-friendly packages
How Mulitivariants – Shopify Bulk Order App Earned These Positive 100 Reviews?
Both user and business-centric elements make an app successful. Besides, an app easily meets its goal if it is able to –
create value for the users

provide a great performance and a delightful experience for users

help generate revenue for businesses

Contribute to overall business growth
Well, MultiVariants has been successfully fulfilling all the above-mentioned factors for its clients. A merchant can organize the Shopify store's product page perfectly according to the business requirements, which is impossible with a default Shopify store. This is helping merchants get more loyal customers. So, MultiVariants actually helping merchants to overcome real business challenges easily and that is why merchants are putting their lovely feedbacks regarding MultiVariants. 
Apply Complex Business Rules Easily
With MultiVariants, merchants (both retailers and wholesalers) can easily apply different business rules from their store and solve complex business problems with just a few clicks. Some of them are –
Display multiple variations of a product on a single product page in Shopify

Apply min/max order quantity (MOQ) limit

Offer customers to Mix and Match and place order

Offfer customers to place a quick bulk order

And many other common features like automatically checking inventory and displaying out-of-stock badges
Installation and applying all the complex business rules with MultiVariants do not require any coding knowledge. It is just a matter of a few clicks.
Keep A Steady Business Growth
With the default Shopify functionality, merchants can not apply different essential business restrictions from their stores. This restricts their businesses from getting a larger sales volume. This is where MultiVariants comes in. It helps merchants to organize their Shopify store perfectly according to their requirements. Organizing the Shopify product page with MultiVariants helps merchants to increase their sales volume and eventually ensuring a steady business growth.
Save Customers Valuable Time
With MultiVariants installed on the store, merchants can build a well-organized product page which saves customers valuable time when they come to place an order. For instance – a product might have multiple variations. With default Shopify functionality, only a single product variation can be displayed on the product page. If a customer wants to choose multiple variations of the product, he/she has to add-to-cart multiple times. But with MultiVariants, all the product variations can be displayed on the single product page and customer can place a bulk order of multiple product variations in just a single click. This saves customers valuable time and encourages them to be loyal customer.
The following image shows how the renowned brand "Hankook Tire" is displaying all the tire variations on a single product page with MultiVariants on Shopify –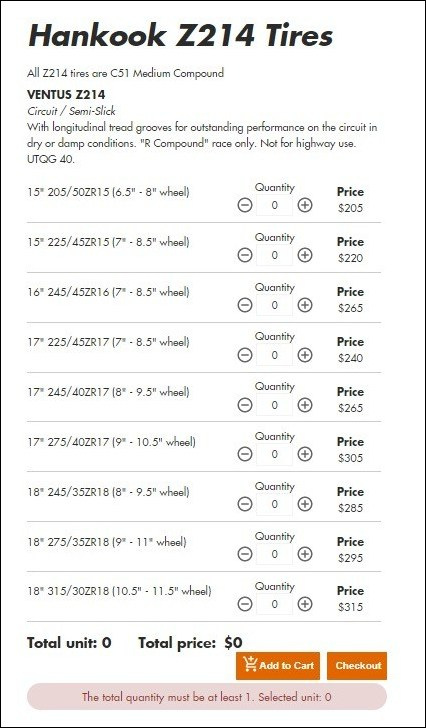 MultiVariants Has A Dedicated 24/7 Support Team
Positive feedback is the direct result of three factors: happy customers, helpful staff, and committed management. MultiVariants – Shopify Bulk Order application has all of these factors to satisfy their clients.
Including these factors, the importance of customer cooperation and support has no alternative to the success of any application, and MultiVariants is no different. Customers are consistently pleased with MultiVariants because of the quality of their features and the helpfulness of their support team. MultiVariants has a dedicated 24/7 support team to solve any of its client's issues or do any kind of adjustments instantly. Which is a unique perk for an eCommerce business. MultiVariants is successful in its field and the 100 reviews are just showing MultiVariants deserve this because of the consistent support and helpful service.
Bottom Line
Earning 100 reviews is just the beginning for MultiVariants and a long way to go. The flow of regular feature modification and endless customer support will make MultiVariants a trustworthy solutions for many businesses in the days to come.