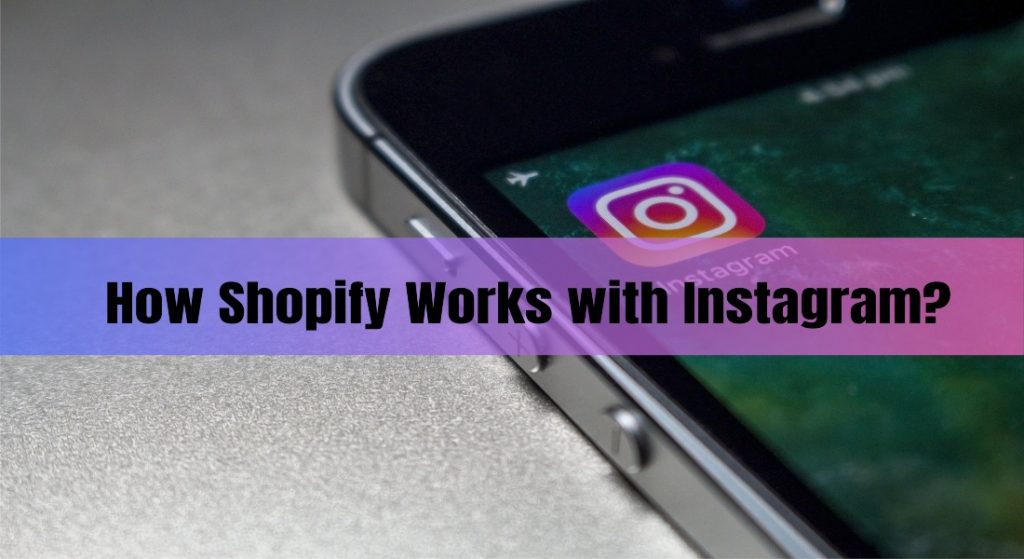 Instagram users are 99.9% more likely to be active on another social network. Instagram has 83% of Facebook users, 56% of Twitter users, and 52% of TikTok users. Recently, store owners of Shopify are getting involved with Social media like Instagram after showing the current growth of Shopify.
Instagram marketing, also known as influencer marketing. It is also important to note that Instagram remains committed to developing tools for eCommerce businesses that increase click-throughs and sales. Instagram shopping simplifies the platform's eCommerce infrastructure. 
To increase website traffic, Instagram allows business profiles with over 10,000 followers to add Swipe Up links to their Instagram Stories. The Instagram algorithm considers users' interests and actions within Instagram to determine which of your posts they will see. Because of this, your Instagram marketing efforts will be more successful because you can more easily connect with users who are interested in your brand.
In this article, we will talk about how Shopify works with Instagram. 
What is the significance of Instagram at Shopify?
There are several reasons why Instagram is a vital channel for Shopify business owners. The first is Instagram's active and enthusiastic user base. 
Semrush reports that Instagram receives 5.41 billion visitors every month, making it one of the top 10 most-visited websites in the world, with huge members of the younger generation and adults. This makes Instagram perfect for many Shopify stores because it allows them to reach their target demographic of young people very easily.
According to Pew Research, Instagram users comprise over half of all Americans aged 18 and up. Furthermore, Forrester discovered that 40% of all adults in the United States regularly use Instagram. 
Instagram is perfect for Shopify vendors who offer aesthetically attractive goods. Shopify vendors may strengthen their brand's visual identity and appeal to new and returning customers by publishing high-quality photographs and videos of their products.
If a Shopify store uses Instagram Shopping to tag products in posts and stories, followers can buy those items without ever leaving Instagram. Shopify business owners can see how well their Instagram posts and ads are doing using Instagram Insights.
Shopify and Instagram are now integrated platforms. This makes it simple for Shopify store owners to integrate their Instagram sales, inventory, and catalogs. This streamlines the process of maintaining an Instagram presence for a Shopify store.
Here are some statistics on Instagram:
Only about 12% of Facebook users in the US have made a purchase there.

Instagram Shopping posts receive 130 million monthly taps.

Instagram users conduct their product research earlier in the buying cycle than ever (81%).

Most Instagram users (72%) have purchased based on a recommendation from a business they followed.

62% of Instagram users say they've been influenced to buy a product or try a brand after seeing it in a friend's Story.
Reason Behind the Popularity of Shopify 
Shopify become popular because of its flexibility, low cost, scalable, and full of functions features. It is an excellent option for businesses of all sizes, from startups to multinationals. 
Clothing is the most popular industry on Shopify, with 75,500 stores selling it. There were 25.7% more clothing stores than any other type in the United Kingdom. 15.3% of their business was in selling gardening and beauty supplies. 
What is the possible reason behind the popularity of Shopify? Well. the reason is to run a store at Shopify, you do not need any technical expertise. Additionally, there are a ton of resources and applications available at Shopify to help businesses to grow.
Finally, Shopify is affordable because of its modest monthly fee. And high-volume retailers do not have to pay anything extra, and there is no limit to the amount of products they can sell.
Shopify has top-notch support staff. Businesses may seek assistance from other Shopify users through live chat, a knowledge base, and a community forum, all available around the clock. 
Integrated different social media platforms with Shopify can bring immense success regarding an eCommerce business.
Way to Know how Shopify works with Instagram?
Learn how Instagram and other social media sites you want to use for your eCommerce site work. Know your audience and what will motivate them to visit your website or app. Here are a few of the best ways to use Instagram to get more customers at Shopify.
Way 1- Include a Store Link to Your Bio
Instagram is a widely used social media platform, but it only works in a way that will increase user engagement with input. You must provide a link in your bio if you are running a company, brand, or store on your Instagram account.
If you would want to alter your "bio" or "profile/biography" section, you can do this from the "main settings" page. There is currently a character limit of 160 on Instagram bios, so writing something that convinces readers to click the link is essential. You can use emojis to get people to click on your bio's CTA link.
A quick and easy way to get people to your website or online store is to include a link in your Instagram bio. Always leave your Instagram link visible to your followers to improve your search engine optimization (SEO).
For instance, if you are a store that sells products in bulk and your target is B2B customers, you can add the store description with the link to the bio. Or, if you are using any third-party bulk order app for Shopify, you can add the link to the bio to clarify the potentiality of your store. Here have a look at an Instagram interface of a bulk order app-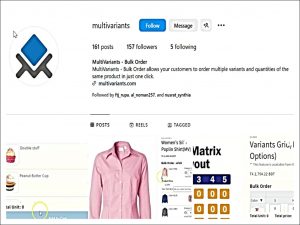 Here, we can see MultiVariants – Bulk Order App added the app link and description in the caption, which is the appropriate way of showcasing products and service to convert Instagram followers into customers.
Way 2- Add Clickable Links to your Instagram Post 
You can improve your website's search engine rankings by including links to your Instagram stories. Instagram users spend a lot of time watching and reading Instagram stories in their feeds, so incorporating links into these short-lived posts would be a fantastic way to drive more visitors to a business's website.
You may compare the traffic from your Instagram bio links with the traffic from your Instagram stories to see which are more successful at drawing people to your website.
Way 3- Make the Best Use of the Calls-To-Action Button 
A call to action (CTA) can also encourage readers to explore a website, company, or product further. Whether you are promoting a physical storefront or an online marketplace, calls to action are always helpful. 
Users may need clarification about where to go for more information about your offerings if you still need to include a call to action. A customer on the fence about purchasing is far less likely to do so if a call to action (CTA) is not used.
If you are just starting with call-to-actions or CTAs, split testing (using two or more CTAs simultaneously) is a great way to learn what works. By conducting A/B tests, you may learn which versions of your Instagram posts perform better in engagement and click-through rates from your target demographic.
Way 4- Advertise on Instagram
Investing in Instagram ads is another strategy for maximizing Instagram's traffic-driving potential for your website. Like Facebook Ads, Instagram Ads provide you full reign over creating your adverts and allow you to run A/B tests on any of your custom-made campaigns.
Using Instagram Ads is a great way to reach a wider audience within the Instagram app and the Instagram community. Target the Instagram users most likely to be interested in your ad campaign by using hashtags they will use. 
Because of Instagram Ads, you can also get detailed information on your overall number of followers and engagement with your social media accounts.
Way 5- Make a Special Offer
It is essential to provide something distinctive on your website. It can be anything like selling things, delivering a service, providing information, or retaining customers. Make sure to provide content to your users constantly and with material that cannot be found with a simple Google search if you want to keep them engaged. 
Trying to get people to visit your website from Instagram or another social media network helps provide helpful and unique material.
Way 6- Invest In A Well-Designed Instagram Account 
Even if a visitor is genuinely interested in learning more about your business and what you are offerings, they can leave your store if your Instagram account is not well manages 
Suppose your website and Instagram account are well-designed. In that case, people are likelier to trust it and remember your company's name, logo, and other identifying features (such as colors) across all your products and services. 
Assuming you are new to the online world, a website builder can be invaluable for increasing your Instagram following and expanding your reach across other social media channels.
How to Set Up Instagram Shopping for Your Shopify Store?
To set up Instagram with Shopify, first of all make sure your Shopify store has a Facebook page. Your Shopify items can be added to your Facebook catalog and tagged in Instagram photos and stories in this way.
Then, start a business account on Instagram. By doing so, you will gain access to Instagram's Shopping function, which lets your followers buy the items you showcase in your posts and stories. 
Next, link your Instagram business profile to your Facebook page and activate the Shopping feature. Now you may begin labeling your products in your social media updates and tales.
After that, use informative and interesting subtitles to get visitors interested in clicking on your product tags and making a purchase. Label your Shopify links with the things you sell. Each photo or video can have up to five products added as tags.
Make Instagram stories to promote and educate consumers about your items. Although Instagram Stories disappear after 24 hours, you can save them permanently by adding them to Highlights.
Bottom Line
Marketing your Shopify store on Instagram is an effective strategy. This post will teach you how to run successful Instagram ads by using engaging content and relevant hashtags. This will help spread the word about your business, bring in new leads, and ultimately increase your sales.