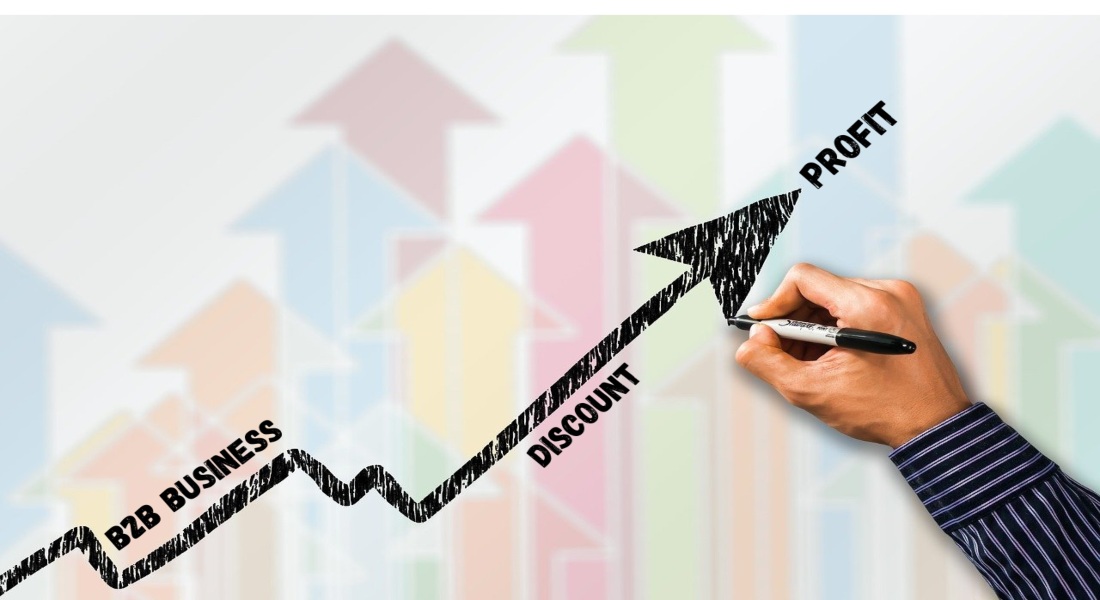 Making a stable position in the B2B industry is a challenging task, and knowing about the advantages of B2B discount pricing in eCommerce is essential. Though, some practical approaches can make a B2B business profitable. Offering discounts is one of them. Do not think the price cut is just an option. Providing discounts or offers has some advantages in the context of a B2B business.
But providing a wise and effective discount policy is mandatory to enjoy those advantages. There is a good number of B2B wholesalers who need to learn about how to implement discounts and what are the actual advantages of applying discounts.
In this article, we will talk about the hidden advantages of B2B discount pricing in eCommerce.
How to Implement Discount Pricing Strategy in a B2B Business?
Strategic planning and market research are essential for implementing a successful discount pricing strategy in your business-to-business operations. 
For instance, you are a B2B wholesaler at Shopify and want to implement a volume-based discount structure. Your market research shows that people in your target demographic prefer to buy products in bulk with a discount. Now you have two possible ways, and they are using a bundle builder app or using a discount app.
In the case of a bundle builder app, you can set product prices by how a volume discount follows. For example, you can offer 20% off for 200 products, but after calculating, of course. Because a majority of bundle builder app only shows percent off visually. But you can add a discount text to inform your customer about the discount.
For instance-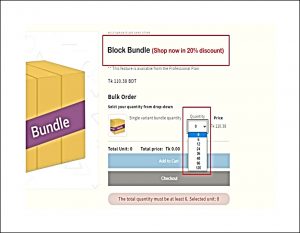 Here, you can see a store owner selling a product in a bundle using a bundle builder app for Shopify. 
Here he is selling the product already at a discount price. Though the discount price is not visible directly, the store added a competitive price by analyzing its competitors. 
For confirmation, their customer can analyze the market. But as a sustainable solution using a discount app is a good way to offer a price cut. 
But keep in mind that, before offering any discount, research because offering discounts help to grab the attention of the target market, which will help you win over new business and keep existing clients happy in the competitive business-to-business market.
What are the advantages of B2B Discount Pricing?
Offering discounts has both positive and negative impact 
Advantage 1- Help a company to Boost Sales
Increased sales volume is one of the most significant benefits of discount pricing. Customers in the B2B industry are always on the lookout for deals. Setting the correct discount prices, considering competitors' prices and customers' behavior toward specific product categories, will increase sales and revenue. 
Discounts can boost sales by an average of 30 percent, according to Invesp study. 
By maintaining low costs, businesses can attract bargain-hunting consumers. When (B2B) utilizes competitive pricing with the market, it encourages clients to buy from that company rather than its competitors.
Advantages 2- Make a Customer Loyal And Repetitive
In a B2B business getting loyal customers constantly is a good sign because the business model for a B2B business is quite different than a B2C model. It is pretty standard that the discount pattern of a B2B business will also be different.
Volume discounts can be provided in a variety of formats. There are various ways to discount a product, including a flat rate, a tiered discount, or even a freebie. Use your imagination to devise a discount approach that appeals to your target audience.
In a B2B business, to make a customer repetitively offer free shipping, a free return policy, Bundle offer and BOGO are good ideas. 
But there is some boundary of offering a discount; for example- in a B2B business, do not offer something which indicates gender and race. Moreover, offering any personalized discount can also drag the profit margin of your business. So, to make the retention rate higher, it is essential to offer discounts wisely.
Advantages 3- Create Brand Awareness
Business persons in eCommerce, especially in a B2B platform, are conscious of brand awareness. 
Customers' familiarity with your brand's unique identity and characteristics measures your brand's awareness. If consumers like your product, it will boost your company's reputation. 
According to Salsify, most consumers (47%) in the United Kingdom, 46% in the United States, 44% in France, and 30% in Germany are willing to pay more for a well-known brand.
A company's reputation depends on what you're trying to offer; for instance, luxury, low cost, attractive discounts, social standing, or even superior customer service could all be potential for your brand.
Furthermore, discounts and sales are an easy way to get the attention of consumers looking to purchase. You may quickly reach many potential customers by selling your products. Because they are in such pressing need of your goods or services, many potential customers will likely visit your store to check out the deals you are giving.
Advantages 4- Boost Company Profitability
Profit margins for B2B companies can be boosted by offering discounts. Using competitive pricing to improve sales volume might help make up for lower profit margins by offering items or services at cheaper costs.
A company's bottom line can improve if it draws more customers through price cuts. Companies can build a predictable revenue stream that can lead to sustained profitability by expanding their market share and enhancing their client retention rates.
Advantages 5- Create Brand Visibility Against Competitors
Proving discount has a big motto to make a brand known in the competitive market of eCommerce. B2B companies that offer discounts to their clients stand a better chance of standing out from the crowd. When a business is willing to undercut the competition on price, it shows that it has faith in the quality of its offerings. 
In addition, lowering prices can cement the company's position in the market, making it harder for rivals to gain ground. B2B companies can gain an edge in the market and ultimately succeed if they position themselves in this way.
Bottom Line
To sum up, B2B discount pricing can provide numerous benefits for B2B companies that operate in the eCommerce sector. Businesses can boost revenue, profit margins, and customer loyalty through wise discounting.