Apply MultiVariants to a group of products
You can apply the MultiVariants app to multiple products using product Tags, Type, or Vendor.
Scroll down to the section "Configure the rules for the products for which you want to display this MultiVariants set"
First, you need to set the rule whether you want to use Type, Vendor, or Tags from the drop-down list.
Now, copy the title of the Type/ Vendor/ Tag where you want to use MultiVariants options and paste it into the text field.
Save the configuration and check it on the front-end.

Apply MultiVariants to a specific or single product
You can also apply MultiVariants for individual products by using the Handle rule.
Choose the rule 'Handle' from the drop-down list
Now, go to your storefront (product page) and browse the product for which you want to apply the MultiVariants app.
Copy only the product URL/handle from the link. (copy everything after " product/ " ) and enter the input field.
Save the configuration and check it on the front-end.
Create multiple rule sets to apply different configurations and display options.
If you want to add different configuration or display rules for a different product or group of products, follow the below steps:
Add a new rule set

You can set a different rule for a different product. Once you are done with the setup process for one product or group of product, Click on 'Add New Rule'
A new pop up window will appear with a similar group of settings described above.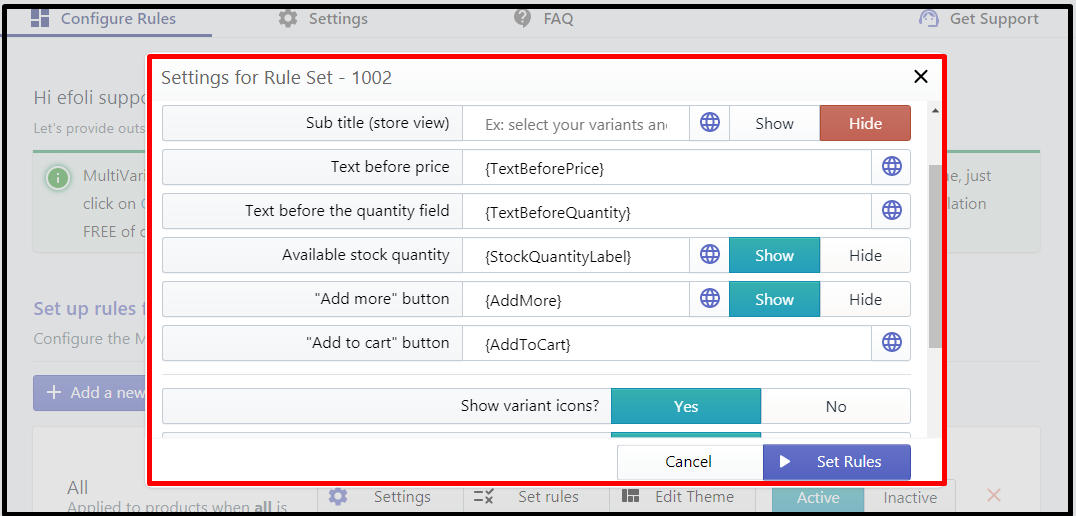 When you have multiple rules in your store, the MultiVariants admin panel will look like the following image.
You can change the settings from the 'Setting' button from each ruleset.
To change the rules, click on the 'Set Rules' button
To customize the theme/CSS for this ruleset, click on the 'Edit Theme' button.